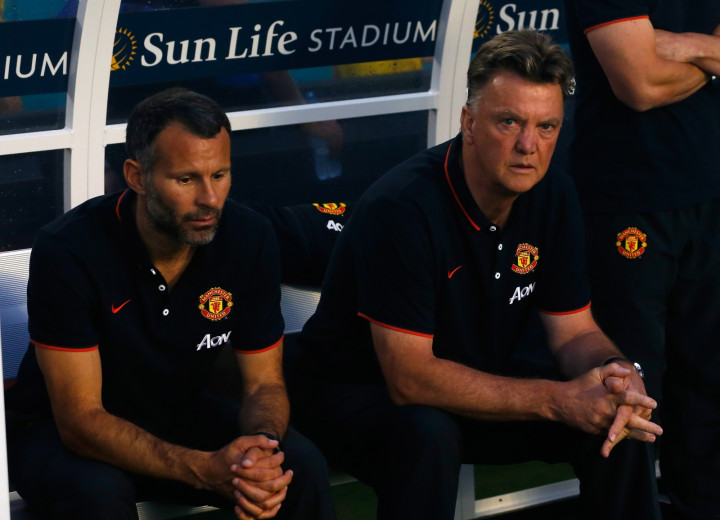 Manchester United assistant manager Ryan Giggs has defended Louis van Gaal's ability to adapt to the rigours of the Premier League after Liverpool boss Brendan Rodgers claimed the Dutch coach would struggle in his first season in English football.
Van Gaal has won league titles in three different countries and managed the likes of Ajax, Barcelona and Bayern Munich during his club career, while he guided Netherlands to a third place finish at the World Cup in Brazil.
However, Rodgers claimed that such are the demands of managing in the Premier League that Van Gaal would be surprised by the standard during his first season with United, despite his wealth of experience in European football.
But Giggs has jumped to the defence of the 62-year-old amid concern from the Liverpool manager and says he will require little time to acclimatise to the English top flight.
"He's not going to be overwhelmed," Giggs said.
"Even the manager has realised how big this club is in the short space of time he has been here. The crowds for friendlies are 'unbelievable' in his words.
"He's managed at the top level for a long, long time and won't be intimidated or afraid of managing Manchester United.
"I think he's a great character. He is, first and foremost, a leader and demands respect, demands discipline and a real sort of detailed structure," the Welshman added.
"But, within that structure, there is obviously freedom to move. It's been great. The players have really enjoyed it so far and I certainly have.
"Everything is structured and really detailed. I think the lads have all enjoyed all the things that have come that are a little bit different.
"Right down to meeting for breakfast, and for lunch, and even the team meetings that we have. Plus the training."
Liverpool were on the wrong end of a 3-1 defeat by United in both teams' final pre-season fixture in the United States, to sustain Van Gaal's 100% record during his tenure with the club.
After moving from Swansea City, Rodgers took a season to adapt to the demands presented at Liverpool before going on to take the club to within two points of a first league title for 24 years and the Northern Irish boss expects Van Gaal to require a similar bedding in period.
"I think what he'll find is the competition in this league will be different to any other league that he's worked in," said Rodgers.
"In a lot of the other leagues, there are one or two teams and those are the teams that are expected to win.
"This is a league where the top team plays the bottom team and on any given day you can lose. You don't get that a lot in the other leagues. I think the competition will probably take him by surprise and that's from foreign managers I have spoken to over the years.
"I've worked closely with foreign players who have come in, and that real physical competitive nature will be different to anywhere else he's worked before."