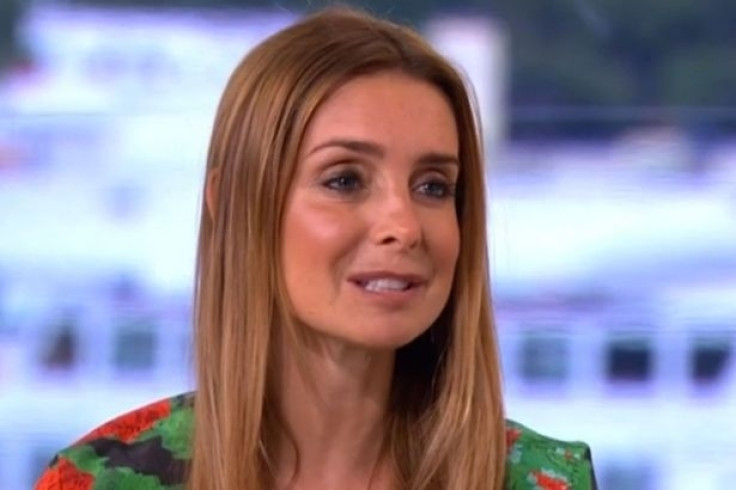 Louise Redknapp has addressed rumours of her marriage split from husband of 19 years Jamie in a candid televised interview today (29 September).
The 42-year-old singer appeared on This Morning where she opened up to hosts Eamonn Holmes and Ruth Langsford about the widely reported story that she is going through a divorce.
Redknapp, wearing a green and orange floral dress with straightened hair for the interview, did not directly answer Holmes when he asked: "What is going on with you and Jamie?"
Defiantly wearing her wedding and engagement rings, the former Eternal star said: "I think it's been so heavily documented, of course we all go through hard times and my priority and his priority are our children and protecting them and keeping as much of it as private as possible and loving them and putting them first. That's really what we're focusing on."
The subject swiftly moved on to Redknapp's new musical, Cabaret, which she hinted has kept her going through her rough marriage patch.
She added: "Going back to work has been something that's been a real saviour for me. Doing Strictly does something to you and going back on stage every night and getting the opportunity again - because you never know, in this business opportunities don't always come along you have to hope - so to have the opportunity to go and work and be out there, I'm loving doing that."
On performing again after being a full-time mother, she said: "It does make me nervous. The nerves don't go, it gets harder, it enlightened my love of performing I've been at home for 12 years, being a mum."
Her appearance on This Morning comes days after her former footballer husband Jamie Redknapp cropped her out of his Instagram profile picture – which was originally posted as a fun holiday snap in Palma on her account in 2015.
The breakdown of the couple's marriage was first reported in June, and despite Redknapp wearing his wedding ring since rumours emerged, he appears to have made it crystal clear with his latest antics on social media.
It was previously claimed that Redknapp – who shares children Charley, 13, and Beau, 8, with his estranged wife – was desperate to save the marriage, but the singer was enjoying her new life after Strictly Come Dancing with friends including gal pal Daisy Lowe.