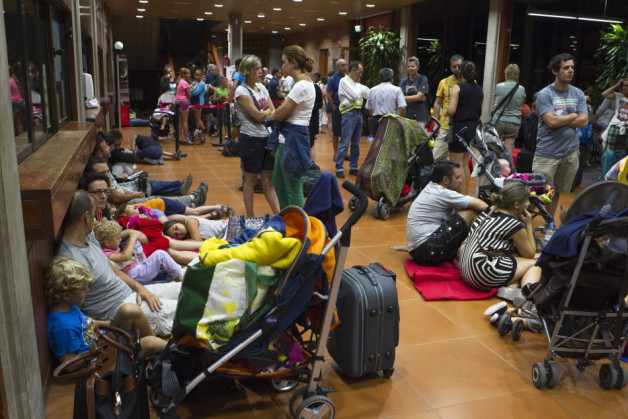 German airline Lufthansa has cancelled nearly all of its flights within Germany and Europe due to a workers' strike over pay.
"The Lufthansa Group's flight operations will be considerably restricted on Monday 22 April 2013 as a result of the planned warning strike by the ver.di trade union," the company said on its website.
The airline noted that only 20 of the 1,650 planned Lufthansa short-haul flights will be available on Monday.
The strike comes after the airline cancelled almost 700 flights on 21 March.
The cancelled flights include those to and from London, Manchester, Birmingham, Newcastle, Glasgow, Dublin, Aberdeen and Edinburgh. German airports affected are Frankfurt, Munich, Dusseldorf, Berlin and Hamburg.
Ver.di represents 33,000 ground staff at the airline. The one-day "warning strike" is a tactic commonly used by German unions to increase pressure on management in wage talks.
The company warned customers of "massive" flight cancellations and delays for long-haul flights in addition to the announced cancellations in Germany and Europe.
Only six of the 50 planned flights will operate in Frankfurt, and only three of the 17 planned flights will be available in Munich, the company said. However, Dusseldorf flights will be unaffected and all three long-haul flights are scheduled to operate as planned, the company said.
Lufthansa's wholly-owned low-cost carrier Germanwings will not be affected by the strike.
Amid rising fuel prices, Lufthansa is looking to cut its expenses in the face of stiff competition from low-cost carriers and big Gulf airlines, such as Emirates, Qatar Airways and Etihad Airways. The airline previously rejected union demands for a 5.2 percent wage hike over the next 12 months.
The union also demanded guarantees over job cuts.
Lufthansa was considering legal action against the strike, according to a Reuters report.