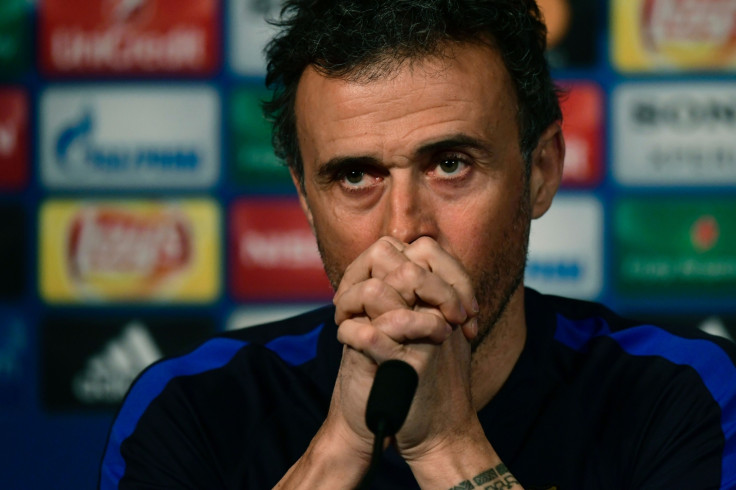 Luis Enrique admits his Barcelona side could struggle to pick themselves back up again after their crushing Champions League defeat to Paris Saint-Germain.
Two goals from Angel di Maria and one each from Julian Draxler and Edinson Cavani sealed an emphatic 4-0 victory for PSG in the first leg of their last 16 clash at Parc des Princes on Tuesday night (14 February).
Barcelona have been roundly criticised after that dismal night in the French capital which saw them suffer their joint-heaviest defeat in European competition in their long 118-year history.
The Catalan giants will have had four days to dust themselves down ahead of their La Liga clash with Leganes on Sunday but their harrowing Champions League defeat was inevitably still the main topic of discussion when Enrique spoke to the press on Saturday.
The 46-year-old head coach described the PSG defeat as a "slap in the face" and when asked if it would affect moral within his squad in the coming weeks, he replied: "Definitely. It was not a result that we wanted, it was a big slap in the face for everybody.
"But you are never gifted wins, the other team played very well and deserved to win. We have to accept that. We know we need to improve our performances, definitely, there is nothing else to say. It's not something we didn't deserve, it was fair result. That is the reality."
Enrique finds himself under increasing pressure after Tuesday's result with many pundits calling time on his three-year spell in charge at the Nou Camp.
The club's former midfielder, however, is focusing solely on the task ahead and insists he has not made a decision over his future at the club.
"The fact is I don't listen to these things, especially in a week like this. I don't even turn on the radio. I'm not worried. These are things people say, I have no comment, I assess my own work and if people don't like it, too bad and if they do like it, great.
"The only thing I know is the next few months have nothing to do with my decision. Not one game, not 10 games not the 38 games of the whole season, [it is] irrelevant."