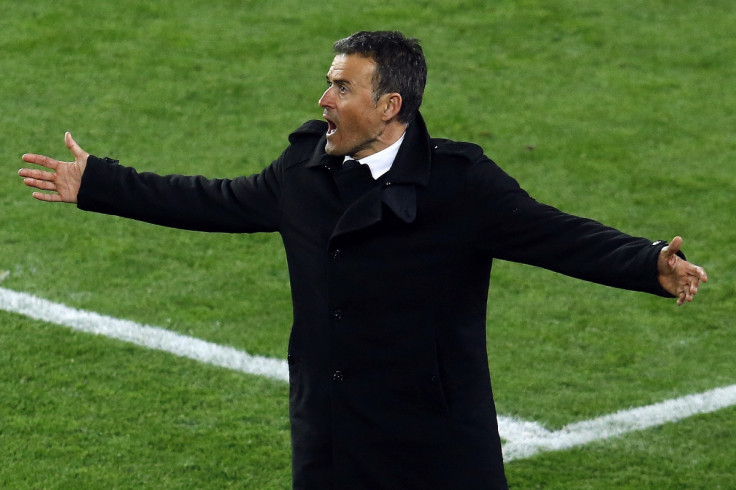 Barcelona manager Luis Enrique has praised his team "massive physical effort" to beat Athletic Club Bilbao 1-0 on Sunday (28 August) after becoming the quickest boss to achieve 100 victories in La Liga, overtaking the previous records held by current Manchester United manager Jose Mourinho and his Manchester City counterpart Pep Guardiola.
The Asturian took only 126 games to reach his century win at the Nou Camp since he took over Gerardo Martino in the summer of 2014, having only suffered 13 defeats in the process.
Mourinho held the record from November 2012, reaching the century victory with Real Madrid after his side beat Zaragoza in his 133rd games in charge at the Santiago Bernabeu. The current United boss then became the fifth Los Blancos manager to reach that landmark – along Miguel Muñoz, the Dutchman Leo Beenhakker, Luis Molowny and Vicente Del Bosque. However, he was also the fastest in La Liga as he only took 133 matches to do it, registering only 18 draws and 15 defeats in the process.
Guardiola, meanwhile, became the fastest boss to reach the hundredth victory as Barcelona manager during his successful time at the Nou Camp. However, the current City manager achieved this in 139 games, 13 more than Luis Enrique.
The current Barcelona boss was happy with the achievement but especially for securing three points to remain at the top of La Liga table along Las Palmas and Real Madrid. Yet the Catalans have won all the four officials games of the current campaign, with back-to-back triumphs against Sevilla to secure the Spanish Super Cup followed by a 6-2 victory over Betis in the La Liga opener.
"It took a lot of merit to get those three points: We had to make a massive physical effort," Luis Enrique said in the press conference after a thrilling encounter at San Mames which was decided by Ivan Rakitic's goal in the first half. "Athletic is a team that creates very deep pressure, and they generate a lot of it, and that's what caused us to make some early errors. But once we had worked out how to deal with that pressure, we started creating plenty of goalscoring chances."
"We were finding it difficult to get the ball into the opposition's half, but we were more in control of things in the second half, although it was them who created most pressure towards the end. It's an invigorating result. It's very hard to play at San Mamés, so we're really pleased with the outcome."
"I'd have liked us to have controlled the game better, but they were doing well with long balls and it took a lot out of us physically. We read the game well, although we really should have sentenced the match earlier. But we have a great squad. They truly do want to compete for everything."