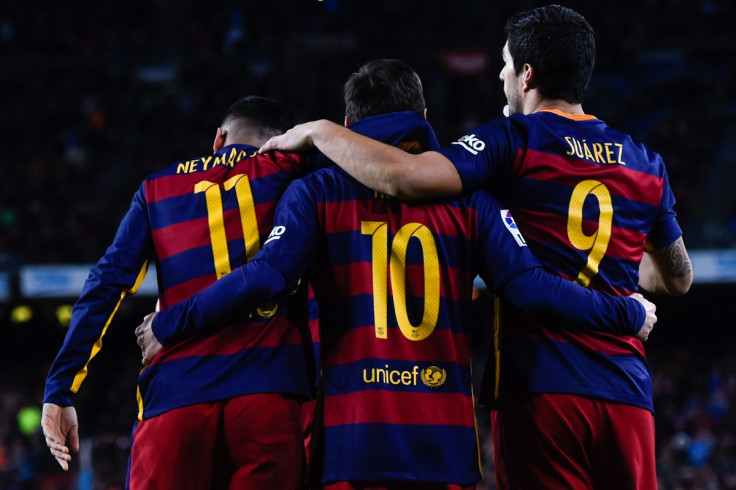 Luis Suarez has express delight over his new deal with Barcelona, but has urged Lionel Messi to put pen to paper on a new contract as soon as possible, saying he needs the Argentine and Neymar alongside him to be "completely" happy.
Barcelona announced an agreement with the Uruguay international on Thursday (15 December), extending his career at the Nou Camp for the next five campaigns. A stunning buy-out clause of €200m (£167.5m, $207.8m) was inserted to ward off potential suitors.
Suarez is the latest Barcelona star to ink a new long-term deal at the Nou Camp after Neymar, Sergio Busquets and Javier Mascherano all committed their futures to the club.
However, Lionel Messi is yet to join his fellow MSN members in the new contract gang, despite his current deal expiring at the end of next season. Some reports in Spain suggest that the renewals of Suarez and Neymar will help convince the Argentine due to the strong bond between the trio.
Suarez has now said he thinks his new deal has nothing to do with Messi, but encouraged the Argentine to sign a renewal.
"No, I don't think [our renewals are a message from Barcelona to Messi). It's just the club's commitment to keep getting important things. It's a message that they are happy with Neymar and with me for the work we are doing and obviously the happiness would be complete if Leo's [renewal] is confirmed," Suarez said.
"Leo is great and he knows what he has to do and decide. As a teammate I am available to help him but Leo is old enough to decide for himself. We are friends and we have a great relationship, but he is an adult and he has to take that decision."
"I am feeling overjoyed about being where I want to be. I feel very happy. It was the decision that we all wanted, both the club and me, we have a great relationship and now it is official. I never put any obstacles in the way of a renewal. Any player would want to end their career at a club where they feel comfortable. We'll have to see as I will be 34 or 35 but I will never lose either my ambition or my enthusiasm."
Barcelona have already publicly admitted they are set to open talks with Messi over a new deal at the beginning of 2017, after he enjoyed another impressive start to the campaign, scoring 22 goals in only 19 appearances.
Suarez revealed that his teammate should have won the Ballon d'Or ahead of Cristiano Ronaldo as he is simply the best player in the world.
"Everyone has their own criteria. But I think Leo deserves to win it every year because of what he gives to football. He's the best," Suarez said.