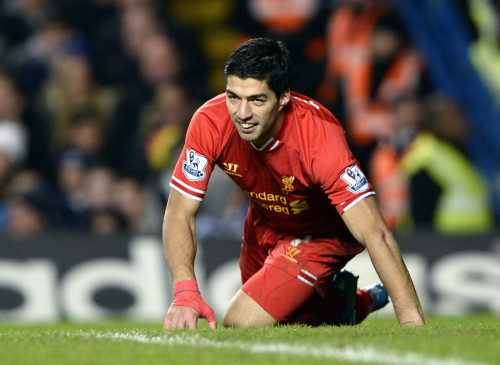 Liverpool striker Luis Suarez has revealed that he is trying to change his attitude on the pitch and is able to curb his natural instincts which would land him in trouble earlier.
The Uruguayan is currently the highest scorer in the league with 22 goals and is looking like single-handedly taking Liverpool to a top four finish this season.
The Reds are fourth in the table, six points behind the Gunners on top and appear as a team transformed after their seventh-place finish last season. Much of the credit has been given to Suarez for his form and ability to come back after being banned for 10 games following his audacious bite on Chelsea defender Branislav Ivanovic.
This is the second offence that Suarez committed in as many years, with his racial slur on Patrice Evra grabbing headlines under manager Kenny Dalglish. The striker was banned for eight games and the following incident had almost sealed his fate at Anfield.
Arsenal tried their level best to land the player with a £40m plus £1 bid last summer but were thwarted in their efforts by the management, which now feels vindicated by its choice. Suarez himself has turned a new leaf and is willing to leave his theatrics behind and fulfil his potential as a player.
"About two weeks ago, when I had an open shot at goal and hit the post and it rebounded close to my hand, I was about to go for it and then I stopped. In the past, I would have gone for it. These things stay with me but I tell you I am improving my attitude on the pitch because I know I was wrong in the past and I was creating an image of myself I know wasn't me," Suarez said.
"I am trying hard, and I have changed. I don't want to create any controversy or anything - today all I am thinking about is Liverpool. I am more than happy with my life here and my wife and children are very happy as well. We are very content with our life. I'm happy to be in the Premier League which is the best league in the world. This is what matters to me," he concluded.