Former Liverpool hero Luis Suarez has been involved in his first controversy in Spain since his summer move to La Liga, after reports in Spain accused him of attempting to kick Thiago Silva during Barcelona's 3-1 victory over Paris Saint Germain.
The Uruguayan international was suspended for nine international matches and handed a four-month ban from competitive football by Fifa just this summer after biting Giorgio Chiellini during the World Cup and having previously had similar incidents with Chelsea defender Branislav Ivanovic during his time at Liverpool and PSV's Otman Bakkal when he was at Ajax.
Earlier this week Suarez revealed during an interview with Spanish newspaper Sport that he is being helped by "professionals" in order to control his temper on the pitch.
"I've learned that I couldn't fix that on my own. I thought I could, but no. I needed professional help to allow me to see things in a different way. Professional that help you with your errors; help you learn. After committing the same mistake three times it was time to put an end to it," Suarez said.
"On the pitch I am now more conscious, I think a second before I do something. Sometimes I didn't think."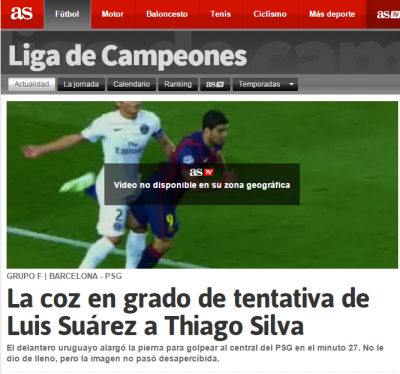 Even though his last incident with Silva is not even close to the one with Chiellini, Spanish media have quickly reported about the issue, accusing him on deliberately trying to kick the Brazilian defender.
"Barcelona's striker appeared to try and kick the PSG player in the 27th minute, but didn't find his target," Diario AS said about it.
"In a scuffle after challenging for the ball, in the 27th minute, Luis Suarez appeared to clearly attempt to kick Thiago Silva. The Uruguayan was close to his target, but his left leg went between the defender's legs."
Meanwhile, Suarez scored his first goal at the Camp Nou and his second since his summer move to Barcelona while the Catalans came from behind to defeat PSG and finish top of Group F.
"The first goal gives me peace of mind and helps me gain confidence in myself and also help the team. You could tell they played well as a collective unit. The played well in the first half and in the second half, until we took control," Suarez said after the game.