Luis Suarez involved in first Barcelona controversy after appearing to stamp on Aymen Abdennour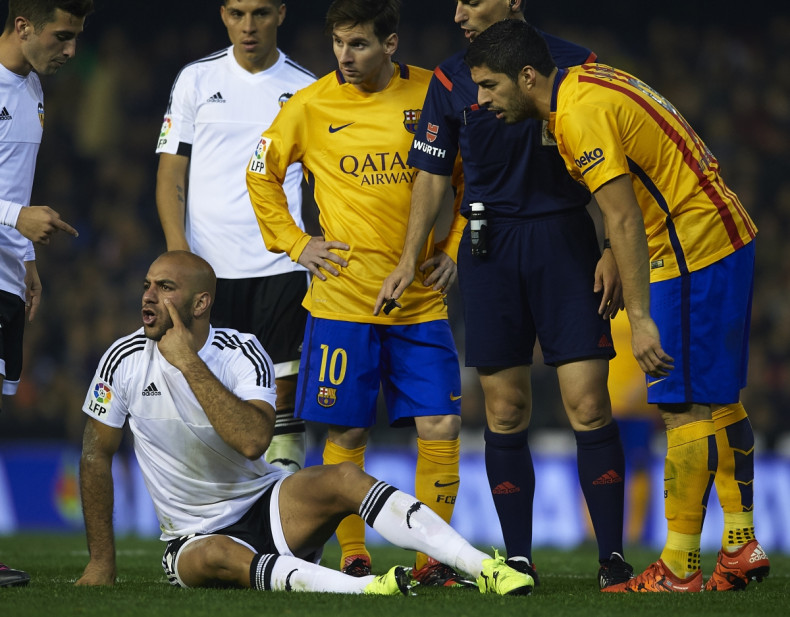 Luis Suarez has walked into his first major controversy since moving to Barcelona after the former Liverpool icon appeared to stamp on Aymen Abdennour in the 1-1 draw with Valencia on 5 December. The Uruguay international claimed the move was "accidental" after the match, but reports in Spain have suggested he clearly did it deliberately.
Suarez has managed to avoid controversy during his spell at the Nou Camp, revealing last season he was being treated by professionals to help control his temper on the pitch following his four-month ban from competitive football by Fifa after biting Giorgio Chiellini in the 2014 World Cup.
He was accused of attempting to bite Martin Demichelis during a Champions League group stage game against Manchester City last season, but video evidence later proved him innocent of such claims. However, the match against Valencia has seen him become the focus of questions about his character once more.
Suarez scored Barcelona's opener in the 59th minute of the game – seemingly in an offside position – before appearing to stamp on Abdennour's foot just minutes later. The referee took no action against either incident, but press in Spain have reproached Suarez's attitude.
After the game, Suarez apologised to the former Monaco centre-back, saying: "I didn't stand on Abdennour's foot on purpose. I turned around, I stepped on him and that's why I apologised".
Abdennour, however, reopened the controversy after taking his Instagram account to show his wounds following Suarez's actions.
Spanish newspaper AS went on the offensive with a video of "nine other moments of madness" froM Suarez, including his biting attacks on Branislav Ivanovic and Otman Bakkal while playing for Liverpool and Ajax respectively.
Barcelona, meanwhile, have expressed their disapproval to the reactions of both Abdennour and the media. "It seems that whatever Luis does should be assessed, it seems they do not like what he is getting this season," a club spokesman said to AS.