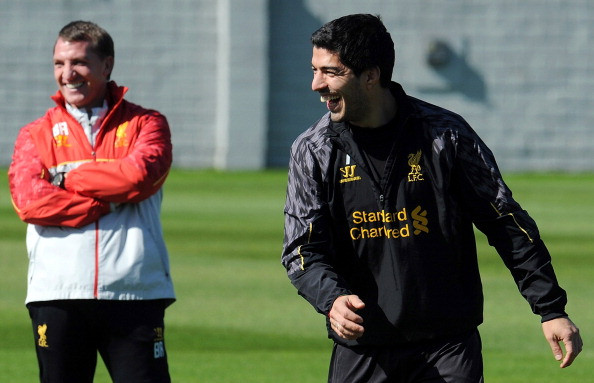 Luis Suarez is a step closer to completing his move to Barcelona after he issued an apology to Giorgio Chiellini and "the entire football family" following his bite to the Juventus defender during Uruguay's World Cup victory over Italy, reports in Spain claim.
The Catalans had earmarked the Liverpool star as their top priority for the summer but, following his controversial World Cup incident, there were some doubts whether they were still interested in his services – especially after Fifa handed him a four-month ban from all football and suspended him from nine international matches.
According to reports in Spain last week, the Catalan officials were disappointed by his behaviour and they urged Suarez to publicly apologise in order to keep the battle for his services alive.
And even though Suarez had previously denied having bitten Chiellini, he has finally accepted Barcelona's request by issuing an apology.
"After several days of being home with my family, I have had the opportunity to regain my calm and reflect about the reality of what occurred during the Italy-Uruguay match on 24 June 2014," Suarez wrote in an open letter issued through his Twitter account.
"Independent from the fallout and the contradicting declarations that have surfaced during these past days, all of which have been without the intention of interfering with the good performance of my national team, the truth is that my colleague Giorgio Chiellini suffered the physical result of a bite in the collision he suffered with me.
"For this I deeply regret what occurred. I apologise to Giorgio Chiellini and the entire football family. I vow to the public that there will never again be another incident like this."
Both Catalan newspapers Sport and Mundo Deportivo view this apology as another step towards his expected move to the Nou Camp.
Indeed, reports claim that Barcelona themselves are now ready to make the next move in the negotiations by launching a first formal bid to Liverpool.
According to the reports, Suarez has already expressed his intentions to move to the Camp Nou to the Catalans officials and now they have to agree terms with Liverpool with a deal that could be worth around £80m.