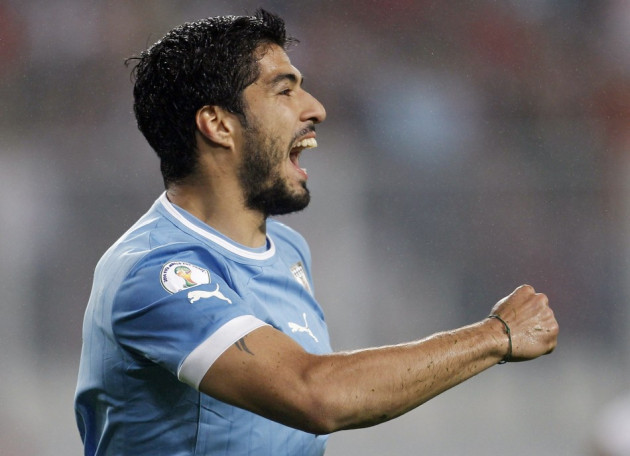 Liverpool defender Kolo Toure has delivered a stark warning to Manchester United and the club's other Premier League rivals ahead of the imminent return of striker Luis Suarez.
The Uruguayan is set to resume playing duties in the League Cup third round tie against United at Old Trafford after serving a ten-match ban for biting Chelsea defender Branislav Ivanovic.
Despite having endured limited pre-season action due to a wrangle over his future at Liverpool, Suarez's recent international form suggests he can pick up from where he left off last term when he scored 30 goals in all competitions for The Reds before his lengthy suspension.
"Luis is a fantastic player - a top striker who can score a goal at any time," the Liverpool defender warned United. "He will strengthen the team.
"Daniel Sturridge has been playing so well for us and the two of them will be a very strong partnership. I'm sure Suarez will be ready to be thrown back in.
"You saw from his international appearance the other week, in the first game he had played for a while he scored twice. That just shows how strong this guy is.
"He has been very difficult to defend against in training. He is a winner. He's always working hard and fighting. You want those kind of players."
"United is the ideal game to pick us up," Toure said following the 1-0 defeat to Southampton. "What a game to play. It has come at the right time after this setback. We need to focus on that now.
"I've played at Old Trafford for Arsenal and Man City and hopefully now Liverpool. I used to dream about playing in games like that, and now I'm going to do everything to make sure we get a win.
"As a group we just didn't perform against Southampton. I've played at right-back for Arsenal in the past and if I can help the team then I'm happy to do so."
Sturridge scored in Liverpool's first four league games of the season and is set to form a lethal partnership with Suarez who despite an unwanted reputation is among the most feared strikers in the Premier League.
And after defeat to Saints, manager Brendan Rodgers was quick to look at the positives including Suarez's return against United - who were defeated 4-1 by Manchester City.
"I think that's a positive from today; the fact that he is back now and he's available from next week," said Rodgers after his side's 1-0 defeat at Anfield.
"He just needs to get games to bring him right up to full speed.
"I think he's in a good condition and he's been playing games, both behind closed doors and ones organised for him," said the Reds boss. "He's been doing a lot of specific work with the conditioning teams.
"He's obviously not going to be 100%, when you come into these sorts of cup games and these games that are at a greater intensity. But he's a worker and he's a fighter and his condition is good. He's in a good place."