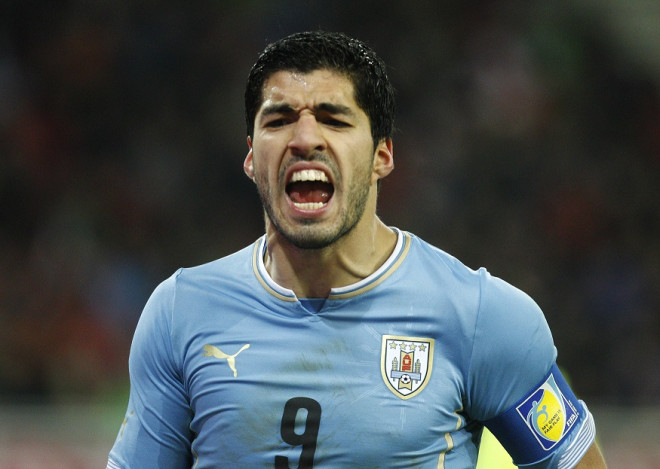 Luis Suarez is in danger of missing the World Cup after injuring his knee during a training session for Uruguay.
The striker will undergo meniscus surgery today on his knee after he damaged the cartilage on Wednesday.
But with recovery from the injury usually taking between four and six weeks, the Uruguayan could face the entire tournament on the sidelines.
The 27-year-old Liverpool talisman is an instrumental part of Uruguay's side and his injury has dealt a serious blow to his home nation's tournament aspirations.
It does, however, provide a boost to England, who face the potentially weakened South Americans on June 19 in their group D clash.
The PFA Footballer of the Year may miss the whole of the group stages, also giving a boost to England's group rivals Italy and Costa Rica, after going under the knife today following results of an MRI scan.
With the tournament's opening ceremony just three weeks away, Suarez now faces a race to prove his fitness ahead of Uruguay's opening group match against Costa Rica on June 14.
Suarez enjoyed a prolific season for Liverpool, who are being kept informed of Suarez's progress, as the Reds were beated to the title by Manchester City.
He tied with Cristiano Ronaldo for the European Golden Shoe, with both players scoring 31 goals in their respective domestic leagues.
The injury means Uruguay coach Óscar Tabárez might now be forced to deploy Edinson Cavani alongside World Cup veteran Diego Forlan, who at the 2010 World Cup in South Africa picked up the Golden Ball award for being the tournament's best player.