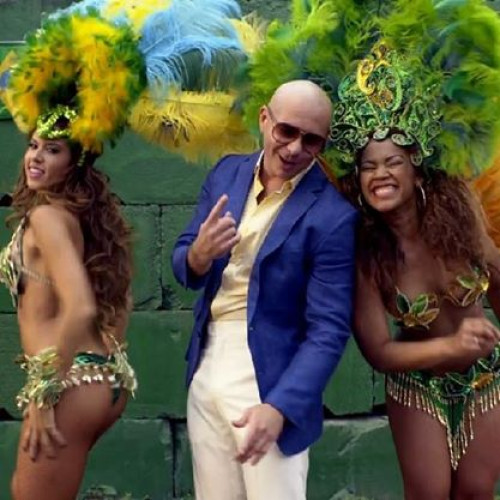 The Fifa World Cup anthem 'We Are One' by Pitbull has failed to impress Brazilians and soccer fans around the world.
The music video, which features Pitbull, Jennifer Lopez and Brazilian pop singer Claudia Leitte, has received sharp criticism for filming the music video in America when the world cup takes place in Brazil.
Most of the Fifa anthem was sung by both Pitbull and Lopez in English while Leitte sings a short part in Portuguese. Music journalist Peres described the Pitbull anthem as 'a big bag of cliches,' news website inquisitr.com reported.
The original version of the Pitbull song was leaked online and it received a lot of flak from fans. Hence, Sony inserted some drum track from Brazilian group Olodum into the final version, the website reported.
Pitbull's world cup anthem and video have received mixed reviews from Brazilians, who think the music has too much foreign inspiration and has stereotyped Brazilian culture, the Los Angeles Times reported.
Meanwhile, fans expressed their disappointment over the Rain Over Me singer's latest song on Twitter and urged Fifa to bring Shakira back.
Shakira's Waka Waka for the World Cup 2010 became a huge hit and was well received by both critics and fans.
The 37-year-old pop star is reportedly obsessed with football and has written her version of Fifa world cup anthem La La La, a reworked version of her new song Dare.
Why is pitbull doing the official world cup song? bring back shakira!!

— Tom Foulds (@TommyyRAWR) May 21, 2014
Shakira's Waka Waka for 2010 World Cup was significantly peppier, cooler & catchier than Pitbull's Ole Ola for 2014 World Cup! — Utsav Mitra (@UtsavMitra) May 20, 2014
pitbull's World Cup song is awful

— ♱ (@acehoodflow) May 21, 2014
that fugly annoying world cup theme song by pitbull — Yoga (@wokgawok) May 21, 2014
they should have just put knaan's waving flag for this year world cup sing lol what the hell pitbull..... shakira's is way better sia

— William (@_liam9) May 21, 2014
Brazil Unanimously Reject Pit Bull World Cup Anthem http://t.co/bap5GANbZN — Andres Ramirez (@ramirezandres) May 21, 2014
I will still blast Shakira's Waka Waka. Screw pitbull.

— Valentina (@SincerelyVal_) May 21, 2014
Pitbull's Ole Ole is nothing great..Should have given Ricky Martin and Shakira this track to do...Both are pure South Americans.. — prateekgiri95 (@prateekgiri95) May 21, 2014