Manchester United completed the transfer of Luke Shaw from Southampton, the club have confirmed.
The 18-year-old full back has signed a four year contract at Old Trafford with an option of a further year and will become the club's second signing in as many days following the arrival of Spanish midfielder Ander Herrera from Athletic Bilbao.
"I am thrilled and excited to be joining Manchester United," Shaw told the club's official website.
"I have been at Southampton since I was eight years old and I would like to thank them and the fans for everything they have done for me. I want to continue to progress my career and joining United is the ideal place for me to do that. I am looking forward to this new chapter in my life and also looking forward to learning from the world-class players and management at the club."
The assistant manager Ryan Giggs added: "Luke is a very talented young left-back with great potential. He has developed immensely during his time at Southampton and has all the attributes to become a top player. I am delighted he has joined Manchester United as I believe this is the right club for him to continue his development as a young player and eventually fulfil that promise."
Amid a number of reports suggesting he has completed his medical at the club's training complex on Friday morning, Shaw has updated his official Twitter page confirming he is now a Manchester United player.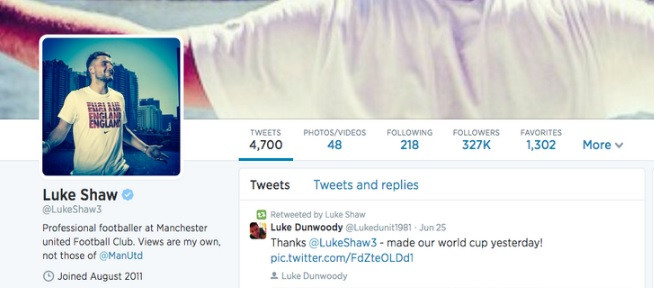 BBC Sport suggest the fee is an initial £27m rising to £31m based on future successes.
United made an opening bid of £27m for the teenager in May, a development which saw Shaw inform Southampton of his wishes to hold talks with the club.
Talks were put on hold while Southampton focused their attention on naming a new manager following the departure of Mauricio Pochettino.
But following Shaw's return from international duty after England's woeful World Cup campaign came to an abrupt end, the youngster now appears to have joined United in a move that could cost the club as much as £30m.
United have made the signing of a long-term replacement for Patrice Evra a priority this summer. The Frenchman signed a one-year extension to his contract at Old Trafford in May but the departure of Alexander Buttner, who has joined Dinamo Moscow this week, provided an indication that a deal for Shaw was close.
Shaw becomes the third high-profile name to leave St Mary's this summer following Rickie Lambert's move to Liverpool and Pochettino's decision to step down as manager and join Tottenham Hotspur.