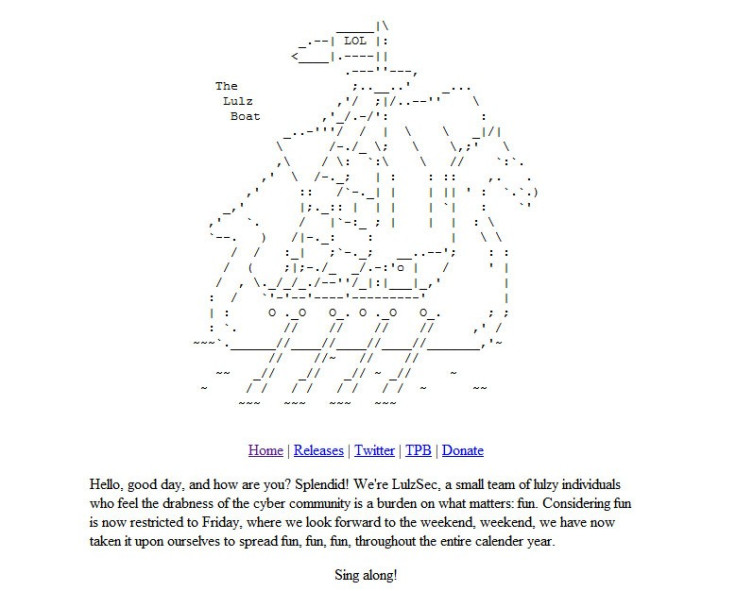 The hacker collective LulzSec has posted the names, addresses of two hackers suspected of leaking its chat logs.
The group posted a statement on Pastebin addressed to the "FBI and other law enforcement clowns" detailing the two's location and hacking history. The post has since been clarified as authentic on its Twitter feed.
The data contained on the logs has already been used by both law enforcement agencies and cyber-vigilante groups such as Web Ninjas to learn more about the group's members. Web Ninjas has since claimed to have learned the names and addresses of several LulzSec contributors.
It is currently unclear whether the data helped lead to the arrest of 19-year-old Ryan Cleary.
Cleary was arrested yesterday for suspected involvement in several of LulzSec's cyber attacks -- the group has since denied this.
In retaliation to the leak, LulzSec posted data online outlining the two "snitches" involvement in several cyber crimes.
The statement opened, "This is Marshal Webb, also known as "[redacted]" in the "#pure-elite" IRC logs you no doubt have enjoyed. He was involved in the hacking of the game "Dues Ex" and was/is involved in countless other cybercrimes.
"Also, he tried to snitch on us. Therefore we just did your job for you with great ease.
"This moron is trying to flee the country in order to avoid serious punishment. Hunt him down".
Followed by, "This is also the name of one of his associates, Michael, or "Hann". He's also wanted for some pretty heavy stuff."
The group went on to clarify that it would have no qualms about releasing the details of any other "snitches" it discovered:
"These goons begged us for mercy after they apologized to us all night for leaking some of our affiliates' logs. There is no mercy on The Lulz Boat."
LulzSec went on to add insult to injury tweeting, "tl;dr they leaked logs, we owned them, one of them literally started crying for mercy, we saw it fit to pastebin their home addresses. :D
"Remember this tweet, m_nerva, for I know you'll read it: your cold jail cell will be haunted with our endless laughter. Game over, chil".
Since releasing the information LulzSec has claimed responsibility for hacks on two of the Brazilian Government's websites. The hacks have been creditied as being a part of its ongoing Operation Anti Security campaign.