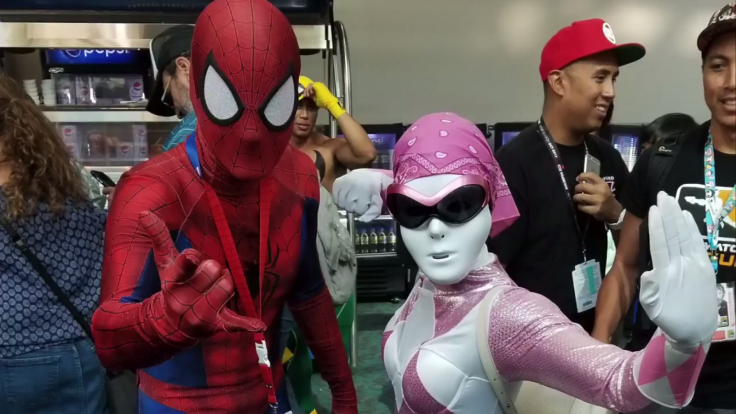 Oscar-winner and Star Wars: The Force Awakens actor Lupita Nyong'o has joined a long list of Hollywood stars who've gone undercover to roam the busy halls of San Diego Comic-Con.
The star, who attended the event to promote upcoming superhero adventure Black Panther, tweeted a video compilation of her in costume at the event, posing with other costumed attendees.
Set to Kendrick Lamar's I, the video (embedded below) shows Lupita dancing through the halls, taking time out to point to a figure of her performance-captured Star Wars character Maz Kanata.
We see photos of her with fellow geeks dressed as Spider-Man, Guardians of the Galaxy's Star-Lord, Ghostbusters and Princess Leia in her Jabba's Palace disguise from Return of the Jedi.
She's certainly not the first celeb to see the event from a punter's point of view while dodging any unwanted attention.
Harry Potter star Daniel Radcliffe attended in 2014 dressed as Spider-Man, and in 2013 Bryan Cranston walked the halls in a mask of his own Breaking Bad character.
Lord of the Rings director Peter Jackson, Simon Pegg and Maisie Williams have all donned costumes at the event as well. Jack Black also tried once, but it didn't work.
"Everybody's just like, 'Jack Black, you in there?' And I'm like 'No, it's not me. I don't know what you're talking about,'" he told MTV after dressing as a Stormtrooper.
In 2011 then-Spider-Man actor Andrew Garfield surprised fans when he asked a question while dressed as the iconic superhero, before taking off his mask to huge applause. In 2013, Tom Hiddleston appeared in the famous Hall H in character and full costume as his Marvel villain Loki, delighting fans.