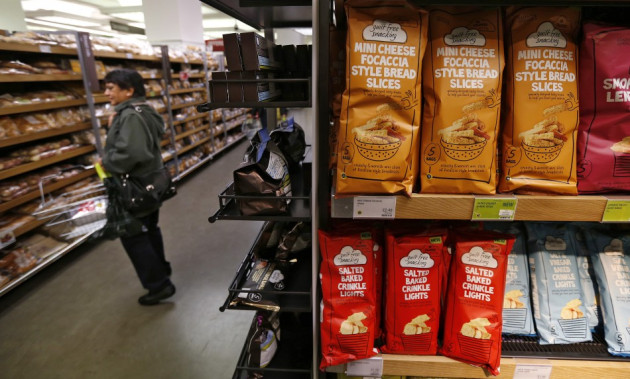 Retailer Marks & Spencer expects to miss its yearly sales target, which will deal another blow to chief executive Marc Bolland, who is already under fierce criticism for his bumper executive salary.
As part of its three-year strategy, the company which sells clothing, homewares and upmarket foods had earlier set a target of increasing sales to between £11.5bn ($17.5bn, €13.5bn). It also set a £12.5bn sales target to reached by the end of the ongoing financial year.
Bolland faces shareholders' questions at an annual meeting on Tuesday 9 July.
In May 2012, M&S revised down the targets to between £10.8bn and £11.5bn, blaming lower consumer spending due to the weakness of the UK economy.
Analysts currently forecast that the company will miss even the scaled-down target as market conditions remain tough in the key UK market. Citigroup, joint broker to M&S, currently expect the company to record sales in the year to March 2014 of £10.32bn.
For the fourth-quarter ending on 29 June, like-for-like sales at shops open for more than a year will fall between 0.2% and 3.0%, according to a company poll of ten analysts. In the fourth quarter of the previous fiscal year, the company reported a 3.8% decline in like-for-like sales.
As part of a restructuring plan, CEO Bolland is spending £2.3bn over three years on store refurbishments, logistics, IT and systems, as well as selective overseas investments. He also formed a new clothing strategy based on more stylish and higher-quality garments to revamp the company's business. He appointed a new general merchandise team that unveiled fresh Autumn/winter ranges and received positive reviews.
While the first quarter sales are expected to be hit by the garments purchased by the previous merchandise team, squeeze on consumers' disposable incomes and poor weather, analysts will want to see an improvement from the second quarter.
Bolland's plan will be judged when the company reports its 2013-2014 financial results next May. He and chairman Robert Swannell are also set to face questions from a group of private shareholders over his strategy at the annual meeting next week, as analysts expect the shortfall in the UK sales.
David Cumming, head of equities at Standard Life, one of the largest shareholders in M&S told the Financial Times that if there was no improvement in general merchandise sales by this time next year "obviously the management team will be under pressure".
Bolland is also likely face criticism over his pay package at the meeting. His bonus was hiked by 25% to £829,000, despite M&S posting its lowest annual profit since 2009 in May.
Debenhams, Britain's second-largest department store group, missed forecasts for third-quarter sales last week, due to a volatile trading climate and cold weather.