MacBook Pro 2015 Specs
13in Retina display (2560x1600)
2.7GHz Intel Core i5
8GB RAM
Mac OS X Yosemite
Force Touch trackpad
2 x USB 3.0; 2 x Thunderbolt
Price as reviewed: £999
13in MacBook Pro 2015 Review
Amidst all the hoopla surrounding the launch of Apple's all-new sleek and stylish MacBook, the company also updated its MacBook Pro range with the latest processors and more RAM.
While this is typically nothing to write home about, this time around the update also included an all-new trackpad, the Force Touch trackpad to be exact, and that makes the 2015 MacBook Pro worth having a look at.
---
MacBook Pro: Design
---
We last reviewed Apple's premium laptop in late 2013 when it got its last big update. Visually at least, the 2015 version of the MacBook Pro is identical - even the new trackpad looks identical.
But why should Apple change something that was close on perfect. I have been using a 15in version of the 2013 MacBook Pro as my main computer for the last 12 months and it was a pleasure to get to carry around the 13in model which is just 1.58kg (compared to 2.02kg) while being just as slim at 18mm.

The aluminium unibody still looks and feels like the best laptop on the market, and while Dell and Lenovo are challenging Apple, they have yet to truly compete.
---
MacBook Pro: Screen
---
Again the screen on the 2015 MacBook Pro is identical to the 2013 Model, featuring a Retina resolution of 2560 x 1600 giving it a pixel density of 227 pixels per inch.
Most of the most popular software (particularly photo and video editing software) are now optimised for Retina - as well as most websites - and the screen on the MacBook Pro is simply best-in-class among premium laptops.
---
MacBook Pro: Keyboard & Force Touch trackpad
---
As with the previous generations of Apple laptop, the keyboard on the new MacBook Pro is superb, offering great feedback, well-spaced keys and of course backlighting.
And so to the most interesting aspect of the new laptop, that Force Touch trackpad.
[Note the new trackpad is only available on the 13in MacBook Pro model at the moment]

Apple has completely redesigned the trackpad, but as I said, externally it looks the same and using it you could be forgiven for thinking nothing has changed at all.
The biggest change is the fact that there is no mechanical movement involved in the trackpad. Apple has integrated new taptic' haptic physical force feedback technology which simulates a physical click and make it feel as if you are clicking something.
The result is uncanny and I found it difficult to comprehend what was happening initially. The technology, which is used on the Apple Watch and likely integrated in future iPhones and iPads, may not be hugely beneficial at the moment, but it has the potential to be.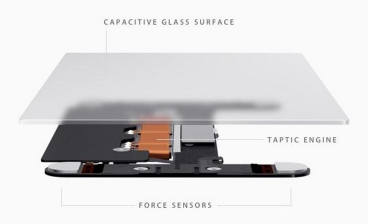 For now, the new Force Touch trackpad has three main uses. The first, called Force Click, allows you to make a secondary click by pushing down harder. Do this on a word in the Safari browser and a Wikipedia definition will pop up. Force Click a link and a preview of the website will appear.
Force Click is implemented across Mac OS X offering a way of accessing features previously accessed through a three-finger tap.
The next use for the new trackpad is to allow you to vary the speed at which you fast-forward or rewind through video - essentially the harder you press the faster it goes. This is tricky to get to grips with initially, but once you do it is brilliant. If you do a lot of video editing, I imagine this feature will be a godsend.
Finally, the trackpad can now be used as a pressure sensitive drawing tablet. Again, this is in the early stages but already companies like Ten One Design have updated its Inklet plug-in to take advantage of this feature - which is again targeted at multimedia and graphic design professionals.
Just like it took software makers time to catch up with Retina, I am sure by this time next year there will be many more uses for the Force Touch trackpad on Apple's laptops. For now, it remains an impressive feat of engineering with limited practical usefulness.
---
MacBook Pro: Hardware, performance & battery life
---
Aside from the new trackpad, the big change here is to the internals. The Macbook Pro now comes with Intel's fifth generation Broadwell Core i5 chip (Core i7 available on the 15in model) along with 8GB of RAM (configurable up to 16GB).
Apple has also upgraded its flash storage (PCIe 2.0 to PCIe 3.0 if you really want to know) which promises to double the performance - and its not far off the mark.
The new chips combined with the new flash storage make the 2015 MacBook Pro fly for typical operations and even photo and video editing are handled admirably.
Also on board are Intel Iris Graphics 6100 which allow you to power up to two external 4K monitors via the Thunderbolt ports which join a couple of USB 3.0 ports, an SD card slot and an HDMI port which should cover most needs.
All this extra power hasn't impacted the battery life however and I still got between 8–9 hours of typical use, which is about as good as you're going to get from such a portable laptop.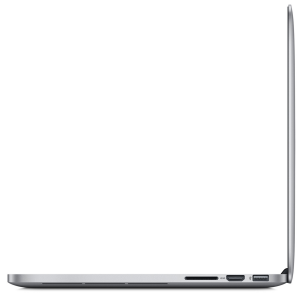 One thing I did note however was that the laptop did tend to get much warmer than my 2013 MacBook Pro, though it was never too hot to handle.
---
MacBook Pro: Value and Verdict
---
Simply put, this is the best portable laptop for those who need to do some real work on the go. Powerful, with a great screen and industry-leading battery life, the 2015 version of the 13in MacBook Pro is a great looking and great performing laptop.
The Force Touch trackpad is an excellent piece of innovation and future-proofs this laptop for people buying it.
At £999, the MacBook Pro is not cheap, but when you consider the Lenovo Yoga Pro 3 costs just as much, then it may not seem so expensive. Dell's new XPS 13 however will cost you £200 less, but Apple's sleek new MacBook will set you back £50 more.
Scores:
Screen: 10/10 - The Retina display remains sharp and bright.
Design: 10/10 - The design remains unchanged, but that is no bad thing
Performance: 8/10 - The Intel Core i5 offers sufficient performance on the move without effecting battery life
Value: 8/10 - At £999 the MacBook Pro is relatively expensive but compared to some of the competition out there, you get a lot for your money
Overall: 9/10 - The addition of the Force Touch trackpad may not seem huge now, bit it adds something new to an already brilliant laptop
The Good:
Fast and powerful.
Beautiful design and flawless build quality.
Force Touch trackpad will only get more useful .
The Bad: