Thousands of pilgrims gathered to take a holy dip at the confluence of two major Indian rivers (and one invisible or mythical one) during one of Hinduism's most important festivals. Makar Sankranti is held every year on 14 January to mark the winter solstice and the transition of the sun from Sagittarius to Capricorn. It also marks the start of the harvest season, with devotees giving thanks to Surya the sun god.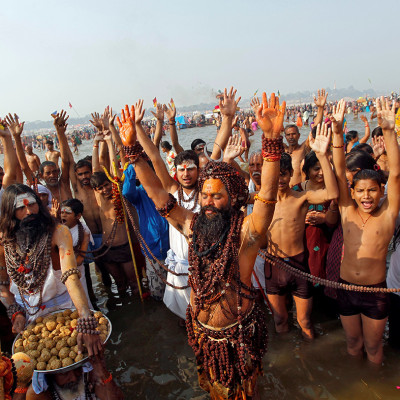 In this gallery, we first look at devotees preparing for Makar Sankranti festivities in two locations. Just outside Kolkata, devotees and sadhus (Hindu holy men) mark the day by taking a dip at Ganga Sagar, the point where the River Ganges meets the Bay of Bengal.
At Allahabad in Uttar Pradesh state, up to two million Hindus gather to bathe at Sangam, the confluence of the two of India's major rivers: the Ganges and the Yamuna. A third river, the Saraswati, which was mentioned in ancient sacred texts, is also believed to meet here.
We also look at celebrations around the Indian subcontinent, where it is known by many different names, such as Thai Pongal in Tamil Nadu, and Lohri in Punjab,