Across India and Nepal, devotees – mainly women – have been marking the Hindu festival of Chhath Puja by immersing themselves in rivers and lakes at sunrise and sunset to worship Surya, the sun god. Standing waist-deep in the water, many also make offerings of fruit and vegetables to the sun to pray for the well-being of their family members.
The festival is celebrated on the sixth and seventh days after Diwali, the Hindu festival of lights. It is observed mainly in India's Bihar and Uttar Pradesh states, and in Nepal. Although it is usually observed by women it is not uncommon to see men participate in this ancient tradition.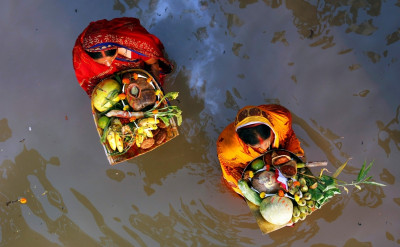 In Hinduism, the sun god is believed to help cure a variety of diseases and ensure the longevity and prosperity of family members, friends, and elders.