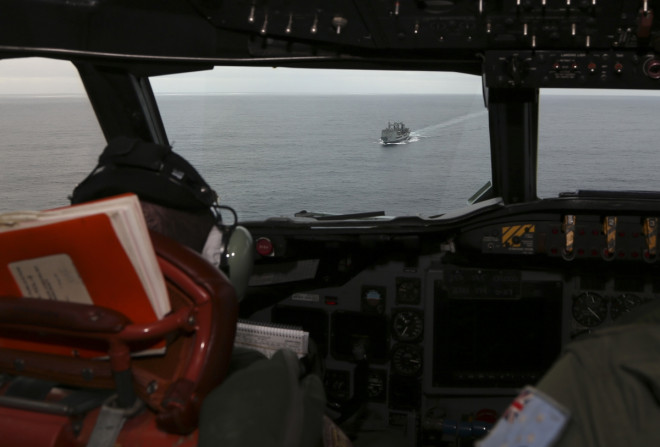 Malaysian authorities confirmed that the missing Malaysia Airlines flight MH370 was carrying wooden pallets after one was sighted floating amid other debris in the southern Indian Ocean.
Over the weekend the rescue coordination centre of the Australian Maritime Safety Authority (AMSA), said that a civil aircraft had spotted a wooden pallet surrounded by what appeared to be strapping belts off Australia's western coast.
"We can confirm that MH370 was carrying wooden pallets," Malaysia's transport minister Hishammuddin Hussein told a press conference. "However, there is as yet no evidence that these are related to the wooden pallets reportedly sighted in the Australian search area."
Wooden pallets are commonly used by ships and in airplane cargo holds.
The civil flight that made the sighting failed to take pictures of the object and a New Zealand P3 Orion military plane which was later sent in the area was unsuccessful in locating the pallet.
Hussein added that another two objects, which were spotted in the southern Indian Ocean, could be recovered by an Australian vessel within the next few hours.
The Australian Maritime Safety Authority (AMSA) confirmed the objects were spotted about 2500 kilometres south-west of Perth by a Royal Australian Air Force P3 Orion plane and that navy ship HMAS Success was moving towards them.
Hussein said the search was increasingly focusing on the so called southern corridor, stretching to the south-west of the last known location of the Boeing 777, which disappeared in the Malacca Straits on its way from Kuala Lumpur to Beijing earlier this month.
"Over the past few days, new leads from satellite data have focused our search and rescue operations in the southern corridor," Hussein said, adding that none of the leads was conclusive at the moment.
"In the northern corridor, Turkmenistan has confirmed they have not had any sightings of MH370 on their radar," he added.
Hussein also said that more than 100 people including families of both the pilot and co-pilot had been interviewed by police as part of the investigation into the missing plane.