Interfax news agency reports all 295 on board killed in crash.
At least six Britons thought to have died.

Boeing 777 shot down by separatists, says Ukrainian Interior Ministry adviser.
Plane was flying from Amsterdam to Kuala Lumpur when shot down over eastern Ukraine.
Separatist leader claims that Ukrainian forces shot down the plane. Kiev denies any involvement.
Ukrainian and Malaysian governments launch investigations.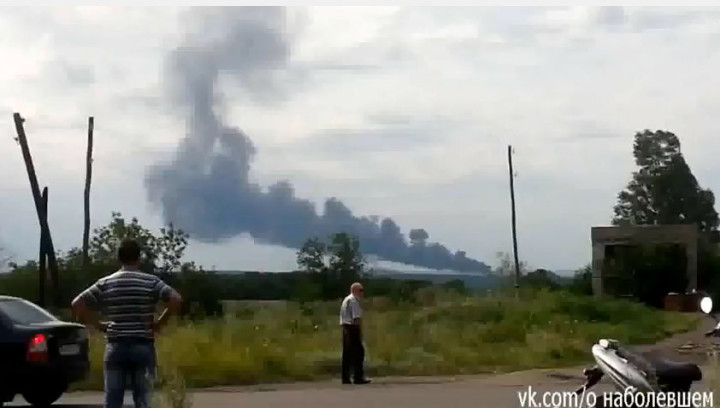 00:14 President Obama spoke to Malaysia's Prime Minister Najib Razak to offer condolences. In a statement the White House said: "He reaffirmed the strength of the friendship between the United States and Malaysia and underscored that the United States stands ready to provide any assistance or support necessary."

22:35 Russia's President Putin says Ukraine bears responsibility for the crash of MH17. In a statement issued by the Kremlin Putin is reported by AP to have said: "This tragedy would not have happened if there were peace on this land, if the military actions had not been renewed in southeast Ukraine. And, certainly, the state over whose territory this occurred bears responsibility for this awful tragedy."

21:54 In a press conference at Schiphol, the CEO of the airport confirmed 295 people were aboard. 154 were Dutch, and six are thought to have been from the UK.

21:27 This article shows a video conversation between a rebel and Russian intelligence officer. The transcript is contained within the article itself. They allegedly discuss the shoot-down of MH17.
21:18 US intelligence has confirmed that a surface-to-air missile was fired at MH17 aircraft but they are dividied over its origin.
21:09 According to notable Ukraine/Russia tweeters, the UK is calling for an emergency meeting of UN Security Council.
21:02 President of the European Council has also made a statement about the crash:
20:57 Nato chief Anders Fogh Rasmussen has made a statement about the MH17 crash:
20:55 Ukrainian security chief has accused two Russian intelligence officers of involvement in MH17 crash. He has based his allegation on phone intercepts between two Russian military intelligence officers, says Reuters.
20:35 Ukraine separatists have said that they are ready for a temporary truce after MH17 plane crash.
20:27 East Ukraine airspace will be closed until further notice, says Europe's flight safety body.
20:24 CNN's Chief National Security Correspondent Jim Sciutto reveals Ukrainian government claims that they have recordings of calls between separatists and Russian intelligence talking about shooting down of MH17 jet.
20:18 This photo shows how airspace over Ukraine is almost completely clear in comparison with the rest of Europe following the crash.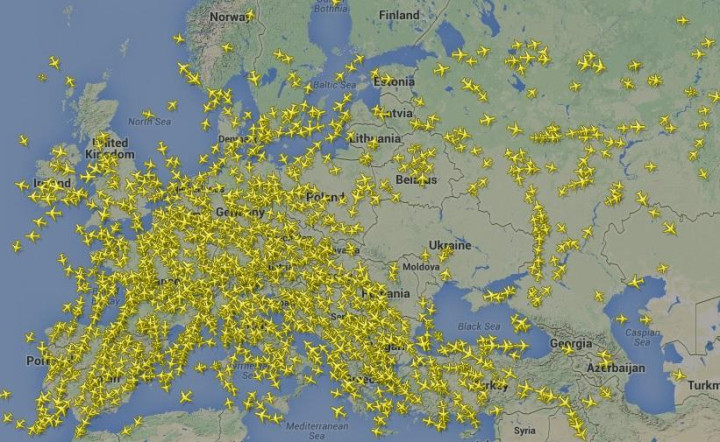 20:15 Eyewitness account says plane was exploding in the air before it crashed into land:
20:14 The finger-pointing continues as Russian media claim Ukrainian forces were attempting to shoot down Vladimir Putin's private jet.
20:11 Mourning family members gather at Schiphol airport in Amsterdam following the news of the crash.
20:05 A passenger on MH17 reportedly tweeted this message before take-off. "If it goes missing, this is what it looks like."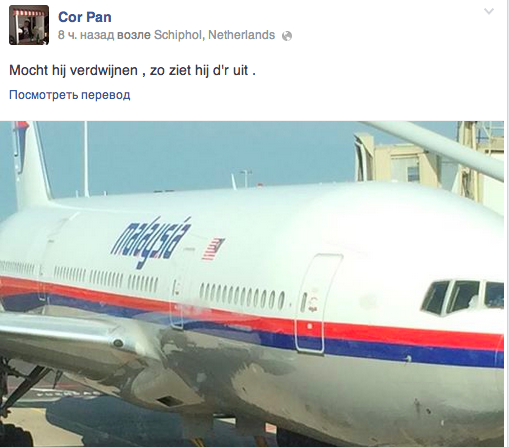 19:52 [GRAPHIC WARNING] Here is a video from the MH17 crash site. Do not open if you do not wish to see upsetting images of the wreckage; the names of victims on plane tickets and passports; and - despite some censorship - bodies of the victims.
19:45 Joe Biden has spoken to Ukraine President Petro Poroshenko and offered US assistance to help determine what happened in MH17 crash, according to the White House.
19:43 Airlines group IATA says it believes crashed Malaysian Airlines MH17 aircraft was not flying in restricted airspace.
19:38 Vladimir Putin offers condolences to Malaysian PM over downed Malaysian MH17 airliner.
19:36 Ukraine's President Petro Poroshenko has invited Dutch experts to participate in probe of "terrorist action".
19:31 Airlines were warned to avoid flying over Crimea because of the airspace dispute that existed between Russian and Ukraine, it has been revealed.
19:25 Pro-Russian separatists in Eastern Ukraine have said that they have found "black box" flight recorder of crashed airliner. Source: Interfax news agency. They are claiming that they will give the recorders to Russia, not Ukraine or western powers.
19:20 Obama has given his reaction to the plane crash. He said that the US was working to determine whether Americans were on the MH17 plane and said it 'looks like it may be a terrible tragedy'.
19:16 This is a photo of the Buk ground-to-air missile model that Ukraine is claiming was used by pro-Russian rebels to shoot down flight MH17.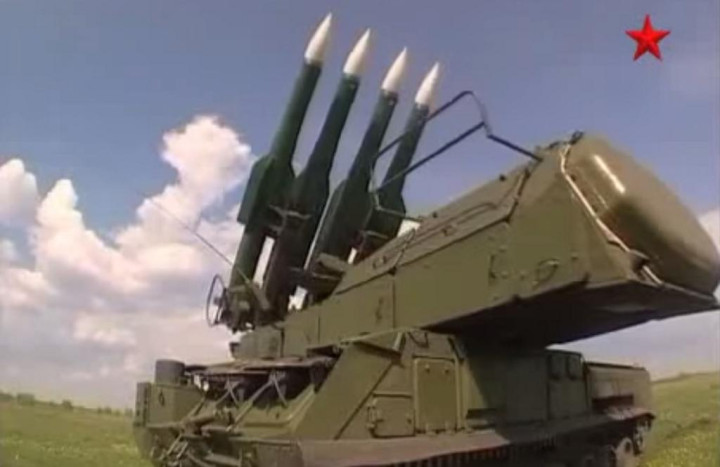 19:06 Reportedly, the self-proclaimed defence minister of the Donetsk People's Republic wrote on his social media account after the MH17 crash: "We did warn you — do not fly in our sky."
19:03 According to the head of the Ukrainian airspace regulatory body UkSATSE, the MH17 airliner was flying normally without any problems until it disappeared from radar.
18:59 Ukraine's newly-elected President Petro Poroshenko has said he can confirm that his armed forces "did not fire at any targets in the sky."
18:55 Here is an alleged photo of passenger passports from the MH17 crash site. Source: Russian outlet Life News.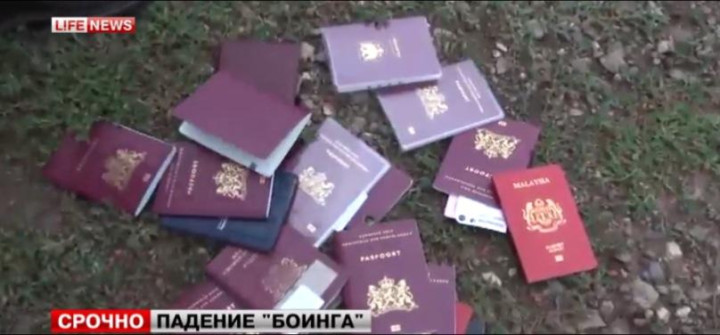 18:53 If confirmed that Malaysia Airlines Flight MH17 was shot down by either pro-Russian rebels or Ukrainian forces, it would be the latest - and deadliest - in a long list of planes shot down by "mistake". See a list of other mistaken plane shootings here.
18:51 The first photos from the crash site are now emerging. See IB Times UK's gallery here.
18:46 British Prime Minister expresses his shock and sadness at MH17 plane crash. Says Whitehall working to establish the facts.
18:44 From the scene of the crash:
18:40 Russian President Vladimir Putin has extended his "deep condolences" to Malaysia's Prime Minister, according to the Kremlin website.
18:36 This video reportedly shows fiery impact of crash. Not confirmed though.
18:34 Unverified reports suggest that 295 people are dead, 80 are children, 23 are Americans and 9 are British citizens.
18:31 Russian airline Aeroflot will no longer fly over Ukrainian territory.
18:22 Turkish Airlines have said that its flights will avoid Ukrainian airspace after the MH17 crash.
18:19 Due to the height of the aircraft, experts are claiming that the distinction between a passenger plane and a military plane would be very hard to distinguish. While the reason for the crash remains unclear, the possibility of the plane being shot down mistakenly remains a possibility.
18:15 Dutch Prime Minister Mark Rutte has expressed his shock at the crash of flight which departed from Amsterdam. He is to return from Brussels to Netherlands to deal with aftermath of crash. Reports of Dutch passports being found among the plane's wreckage have also emerged.
18:13 Ukraine military spokesman says there are no survivors on Malaysian Airlines flight. Also says that pro-Russian separatists have 'Buk' missiles capable of shooting the plane down.
18:11 Air France have announced that they will avoid the airspace of eastern Ukraine.
18:08 While no one has claimed responsibility for the crash, 'World War 3' has begun to trend on Twitter with people believing that this crash could become a major international incident with huge diplomatic ramifications.
18:03 Simon Shuster, reporter for TIME, says that separatists have denied they have the capabilities to shoot down a plane so high up, but when queried on Buk missile that was alleged to have been used, they ended the call.
18:01 According to prominent Ukraine tweeter, Kateryna Kruk, 80 children were killed in the plane's crash.
17:58 CNN is reporting that people are looting debris from the MH17 crash site already.
17:57 The first pictures are emerging from the MH17 crash site.
17:34 Ukrainian President Petro Poroshenko says: "We do not exclude that the plane was shot down."
17:33 Both sides are denying responsibility in the crash of the Malaysia Airlines flight. There are set to be major repercussions as more details emerge but how the situation will play out remains to be seen.
17:32 Malaysia Airlines issued this tweet in response to the disappearance of flight #MH17.
Welcome to IBTimes UK's live coverage of the reaction to the crash of Malaysia Airlines flight MH17. Follow Jack on Twitter for further MH17 crash updates.