A Malaysian airliner with 295 people on board was shot down over Ukrainian airspace with a ground-to-air missile, according to a Ukrainian Interior Ministry adviser.
The Russian news agency Interfax said that Anton Geraschenko of the Ukrainian Interior Ministry confirmed the aircraft was shot down with a missile by pro-Russian separatists.
The plane was found burning on the ground in eastern Ukraine before it was expected to enter Russian airspace, an aviation source said.
Russian rebels battling Ukrainian forces in the area have been seen armed with surface-to-air missiles, according to the BBC. Shortly before the Malaysian plane disappeared from the radar, rebel forces tweeted they had shot down an aircraft.
Interfax quoted a separate source in the Ukrainian security apparatus as saying that the plane disappeared from radar at a height of 10,000 metres and came down near the town of Grabovo, Donetsk Region.
Malaysia Airlines tweeted that it had lost contact with the MH17 flight travelling from Amsterdam to Kuala Lumpur and it's last known position over Ukrainian airspace.
The Ukrainian Prime Minister Arseniy Yatsenyuk has ordered an investigation into what he called the "airplane catastrophe" while the Ukrainian Prosecutor General's office said that police couldn't get to the crash site as the territory is under separatist control.
A spokesman from Boeing said that they were "aware of the media reports and we are gathering information" on Malaysian Airlines plane crash.
A number of military planes have been shot down by missiles over eastern Ukraine in recent weeks, where pro-Russian separatists are battling pro-Kiev forces.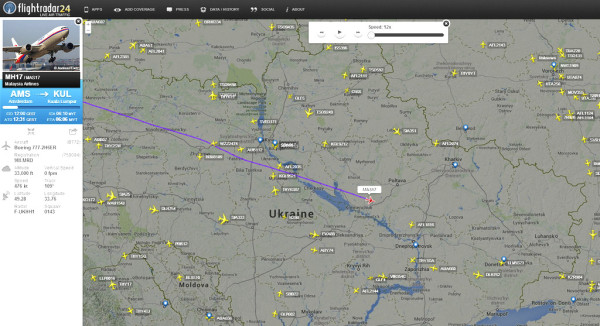 The UK Foreign Office said that it was "urgently working to establish what has happened."
The incident comes months after Malaysian Airlines fight MH370 mysteriously disappeared with 227 passengers and 12 crew members on board, as it was flying from Kuala Lumpur to Beijing.