Ukraine Crisis: Moscow Considering 'Targeted Strikes' after Shell Kills Russian Civilian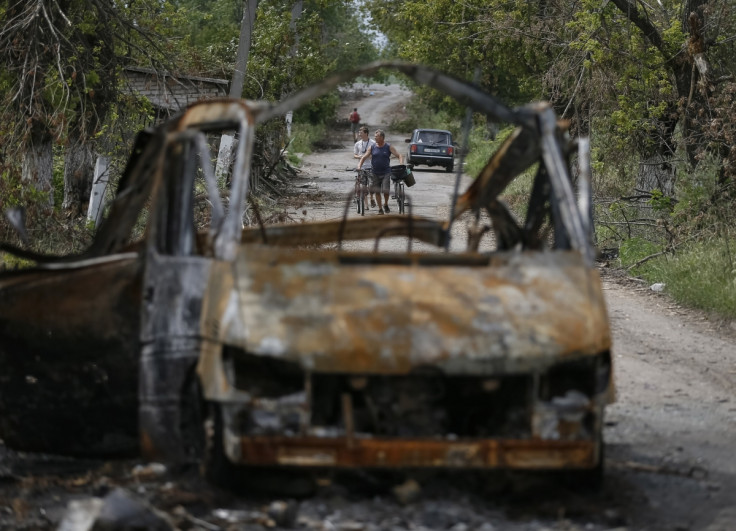 Russia is considering targeted airstrikes against Ukraine after a shell landed in Russia territory and killed a civilian across the shared border, according to local Russian media.
According to the Kommersant daily, a source close to the Kremlin said that Moscow was mulling the possibility of "targeted retaliatory strikes" against Ukraine.
"Our patience is not limitless," said the source. [Russia] "knows exactly where they (Ukrainians) are firing from."
The Russia foreign ministry said that the incident was "another act of aggression" that could have "irreversible consequences" for Ukraine.
Yevgeny Bushmin, deputy speaker of Russia's upper house of parliament, said: "We need to use targeted weapons, like Israel does among others, to destroy those who launched this mine."
Kiev denied the claim, saying that pro-government forces "had never before, are not now, and will never fire on the territory of a neighbouring state."
Ukrainian forces have claimed to have ended a rebel blockade on Luhansk airport following a weekend of increased fighting with pro-Russian separatists.
The Ukrainian military said its airstrikes had inflicted heavy separatist losses, which included strikes against an armoured convoy that Kiev said had crossed from Russia.
Ukrainian President Petro Poroshenko promised to "find and destroy" the separatists who killed 23 soldiers in rocket strikes last week.
According to Interfax news agency, the Luhansk People's Republic said that 30 of its fighters had been killed in Ukrainian fire on the village of Oleksandrivka, east of Luhansk.
© Copyright IBTimes 2023. All rights reserved.