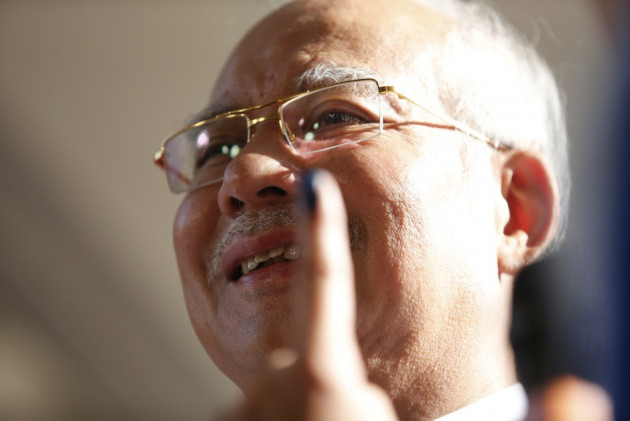 Results of Malaysia's general election are trickling in after a closely contested political battle. The South-East Asian country has one of the world's longest-serving governments - in power for 56 years - but it is under threat from an opposition demanding widespread reforms.
PM Najib Razak's Barisan Nasional (National Front) coalition is up against Pakatan Rakyat (People's Pact), a three-party alliance headed by Anwar Ibrahim.
Until Sunday, the supremacy of the BN ruling bloc dominated by the United Malays National Organisation (UMNO), and now led by Najib, has not been threatened since independence in 1957.
But the diverse Pakatan Rakyat opposition alliance led by charismatic former UMNO star Anwar Ibrahim took the country by storm with historic gains in 2008 polls and is gunning for a landmark victory.
"There is clearly, undeniably, a major groundswell and a major shift among the population across ethnic lines," Anwar told Channel NewsAsia, after casting his ballot in his constituency in the northern state of Penang.
"Inshallah (God willing), we will win."
Anwar kept his parliamentary seat in Penang, after beating Barisan Nasional's Mazlan Ismail by 11,721 votes.
"Unless there's a major massive fraud tomorrow - that is our nightmare - we will win," Anwar told AFP news agency.
Voters took to the Internet to accuse Prime Minister Najib Razak's government of trying to influence the election results, as indelible ink that the PM touted as a guarantee against voter fraud was found to easily wash off.
The ink was introduced for the first time and touted by Najib as proving his commitment to fair polls. It is applied to a person's finger to show they have voted.
But voters like Halim Mohamad, 77, said the ink, supposed to stain the bearer for several days, washed right off.
"This is cheating. I was shocked when it came off," he told AFP after voting at the same polling centre as Anwar, showing his cleaned index finger.
"I complained to an Election Commission official and he just laughed."
The complaints added to other allegations of irregularities that have raised the possibility of a disputed result.
Barisan Nasional has been campaigning very hard to shore up its base among poorer ethnic Malay neighbourhoods and in rural areas, and opinion polls suggest a very close race.
Whether Anwar's coalition, comprised of parties of different ethnicities and religions, can persuade voters to choose an alternative government, will soon be decided.