Man arrested on suspicion of arson after fire at asylum centre in Sweden
This is the fourth fire at an asylum centre this year.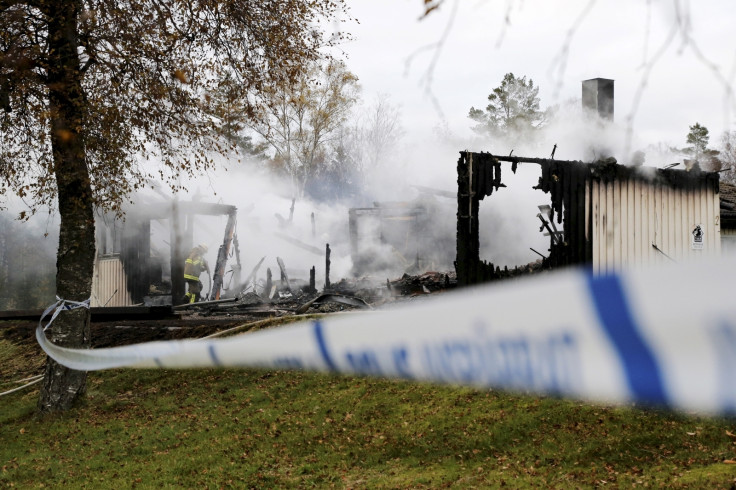 A man has been arrested on suspicion of arson after a fire at a centre for asylum seekers in Sweden, amid tensions between the local population and refugees that led the country to tighten its immigration policy.
The blaze at a storage building that services the centre in Grytan, northern Sweden, broke out at around 9pm last night (25 July), and saw emergency services workers battle heavy smoke to tackle the fire.
"We tore down a wall with a wheel loader in order to get to the fire, and were able to leave the place just before one in the morning," emergency services spokesperson Teresia Gustafsson explained to Swedish news outlet The Local.
No one was injured in the fire, which destroyed the home's store of bedding and winter clothing.
Police arrested a 25-year-old man at the scene on suspicion of arson, but have not so far released further details.
A third of the building has been destroyed while other parts have suffered fire and smoke damage. Sweden reversed decades of generous immigration policies last year, introducing border controls and tougher laws after a record number of asylum applications that coincided with unprecedented flows of refugees entering Europe to escape war and poverty in Africa and the Middle East.
Police have been keeping a close watch on the country's asylum centres, with this estimated to be the fourth blaze this year.
In July, police in Värmland said they were investigating a fire at a home for lone refugee children that left two people injured. That followed two fires at an asylum centre earlier this year near Ystad in southern Sweden which police suspect was deliberate.
Arson attacks on Swedish asylum facilities have been a common occurrence since the number of refugees coming to the country peaked in 2015.
© Copyright IBTimes 2023. All rights reserved.