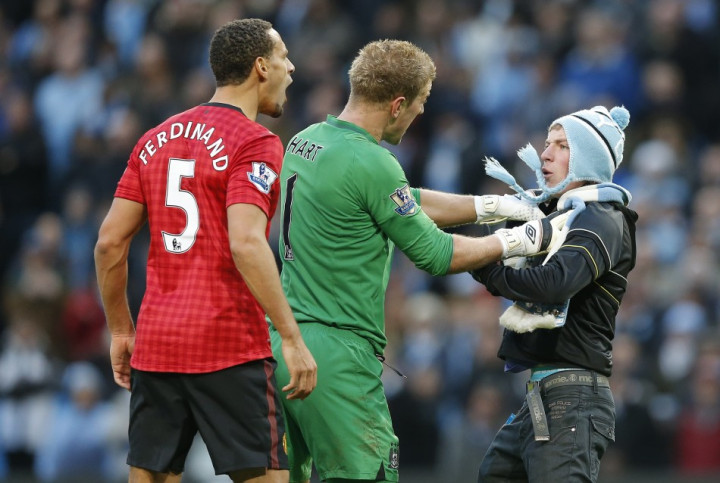 The Manchester City supporter who ran on to the pitch and attempted to confront Rio Ferdinand during the Manchester derby has apologised to the defender.
Matthew Stott, 21, had to be restrained by Blues goalkeeper Joe Hart after he ran up to Ferdinand following Robin van Persie's winning goal against City. Manchester Utd won 3-2 at the Etihad stadium.
Stott, from Knutsford, was arrested and charged with pitch encroachment during a high-octane game, which also saw Ferdinand struck by a coin thrown from the stands.
Speaking through his solicitors, Stott apologised to Ferdinand. He said he was "extremely ashamed" of his actions.
"I would like to apologise to all those affected by my actions, particularly Mr Ferdinand and the other players," he said. "I am extremely ashamed of my actions. I have let myself down, my family down, my fellow fans down and Manchester City Football Club [down].
"I intend to write personally to Mr Ferdinand to express my extreme regret and apologies and also apologise to Manchester United and their fans. I would like to thank Joe Hart for his actions when I came on the pitch.
"I have been a fan of Manchester City Football Club all my life and I have been a season ticket holder for three years and I attend the games with my father. I have had the same seat in the section next to the away fans for those three years."
Rebecca Caulfield, solicitor at Stephen Lickrish & Associates, who is representing Stott, added: "Mr Stott is a hardworking man who has held a full-time job as a landscape gardener for four years and lives with his partner of five years.
"He has never been to court before and has never been in trouble with any of the stewards at Manchester City Football Club before or at any other ground. He is extremely remorseful and is mortified by his behaviour which is completely out of character.
"This was a momentary mistake by Mr Stott which has led to him being charged, brought shame on his family, and will bring sanctions on the club that Mr Stott has supported all his life.
"Mr Stott will accept the consequences of his actions. He would like to make clear that he is not the stereotypical drunken football fan but a fan that attends games with his father. He is embarrassed and ashamed of his temporary moment of madness that has brought wider consequences on the club he supports and his fellow fans."
Stott was one of nine people who have been charged by police following Sunday's game. All are due to appear before Manchester City Magistrates' Court on 4 January.