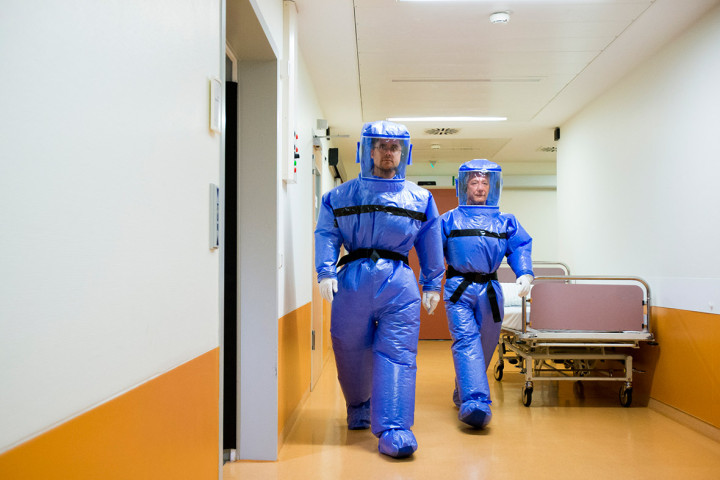 A man has sparked an Ebola scare at a UK hospital after nurses became concerned that he displayed symptoms of the deadly virus.
The man, who had travelled from Lebanon, walked into the accident and emergency department of Weston General Hospital in Somerset, and nurses isolated him on the ward believing he had contracted the disease.
Tests later carried out confirmed that the man was not in fact infected with Ebola.
"A patient came in from abroad and because of some of the symptoms they were displaying, the accident and emergency department were naturally very cautious," a hospital spokeswoman said.
"They followed all the correct procedures and the proper triaging. The patient was found not to have Ebola."
A relative of the patient who was at the hospital at the time of the incident told the Bristol Post: "I thought 'oh my God' when I heard the doctors and nurses talking about Ebola, but I hadn't had any close contact with the patient they were examining.
"Once the hospital thought there could have been a risk, they reacted very quickly and I think it was the correct procedure."
Lanarkshire Ebola scare
In a separate incident, a woman who arrived from Sierra Leone and became ill at an immigration removal centre in South Lanarkshire tested negative for the Ebola virus.
NHS Lanarkshire said the tests were a precautionary measure, and issued a statement on Saturday saying it was "highly unlikely" that the patient would have contracted Ebola.
The negative test comes after a Sierra Leonean athlete competing in the Commonwealth Games was found to be clear of Ebola in Glasgow last month after he sparked a scare when he went missing.
This week, the Kenyan government announced plans to close its borders to travellers arriving from Liberia, Guinea and Sierra Leone from Wednesday.
A number of airlines have already suspended flights to the three West African countries, including British Airways, Emirates Airlines, Arik Air and ASKY Airlines.
So far, at least 1,145 people have died from the disease amid the worst ever outbreak of the virus.
Joanne Liu, president of Médecins Sans Frontières, said the Ebola epidemic is spreading faster than authorities can handle, and that it could take up to six months to bring the disease under control.