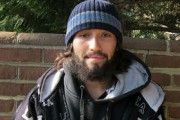 Oscar Ramiro Ortega-Hernandez, 21, charged with attempting to assassinate Barack Obama by firing shots at the White House last week, believed the president was the "anti-Christ," authorities say.
Ortega-Hernandez of Idaho Falls, Idaho, was arrested by Pennsylvania State Police on Wednesday following the Nov. 11 shooting at the White House in Washington.
Two bullets were found at the grounds of the White House, one of which had hit an exterior window of the building before being stopped by ballistic glass.
Ortega-Hernandez was arrested at a motel near Indiana, Pa. A criminal compliant filled by the U.S. District Court for the Western District of Pennsylvania states that he "knowingly did attempt to kill the President of the United States."
President Obama and First Lady Michelle Obama were in California at the time of the shootings and no one was injured.
Ortega-Hernandez will be transferred to Washington, D.C., where he will be formally charged. The maximum sentence if convicted will be life in prison.
Ortega-Hernandez had described Obama as the "devil" and the "anti-Christ", according to the criminal complaint.
He had told associates that the federal government was conspiring against him and that Obama "needed to be taken care of," Chris Ormerod, a special agent of the Federal Bureau of Investigation, said in a written statement.
The U.S. Secret Service, FBI and the Washington Metropolitan Police Department had been working together to find Ortega-Hernandez since the shooting. Law enforcement officers responded to the sound of gunshots on Constitution Avenue, 700 yards away from the White House.
A witness had said a man a stopped his car and began firing through the passenger side window in the direction of the White House.
Police later found an abandoned black 1998 Honda Accord with Idaho license plates with an assault rifle and ammunition inside. Also found in the vehicle were brass knuckles, an aluminium baseball bat, and clothing.
One of the bullets found at the White house has a diameter, weight and design of the type of bullets found in the abandoned car.
Registration records showed Ortega-Hernandez was one of the listed owners of the vehicle, investigators said in a written statement.
Media reports said Ortega-Hernandez considered his attack on the White House as a mission from God. Reports also suggest that the suspect had an apparent obsession with Obama and his administration.
Magistrate Judge Cynthia R. Eddy ordered that Ortega-Hernandez remain detained pending further proceedings in the U.S. District Court for the District of Columbia.