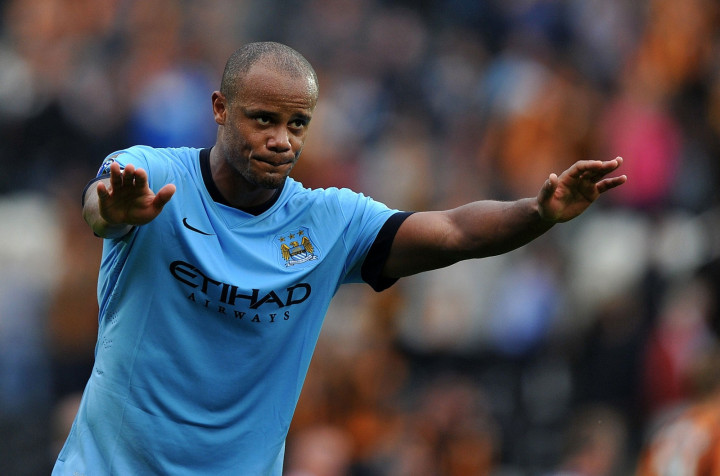 Manchester City captain Vincent Kompany has rejected a tongue-in-cheek offer from celebrity supporter Piers Morgan worth over £60m to join Arsenal.
The 28-year-old centre-half has won two Premier League titles during six years at the Etihad Stadium and is regarded as one of the finest defenders in the English top flight.
Kompany was watching on as his former club Anderlecht, with whom he began his professional career, recovered from three goals down to draw with Arsenal in the Champions League, expressing his delight on Twitter after Aleksandar Mitrovic equalised in the 90th minute.
Morgan responded to the City player asking whether he would consider playing for Arsenal for £50m. Kompany said: "Great club but no."
The former Daily Mirror editor then tried to tempt the Belgium international with an offer of £60m and two Ferraris, to which he replied: "Those days have gone Pearsie, I play for glory."
Though the offers were likely in jest from Morgan, who has earned a reputation for being overwhelming partisan towards Arsenal via his Twitter account, the episode is another example of Kompany's undeniable commitment to the City cause.
The rejection from Kompany comes as the Gunners attempt to slalom through the remainder of the year until the January transfer window with just four fully fit defenders.
Amid the signing of Alexis Sanchez and Danny Welbeck, manager Arsene Wenger failed to add sufficiently to his back four during the summer transfer window.
Mathieu Debuchy and Calum Chambers both arrived from Newcastle United and Southampton respectively, however the club have just six first-team defenders to choose from.
But despite drawing with Anderlecht, which all but ends the club's hopes of qualifying for the Champions League knockout stage as winners Group D, Wenger has not committed to improving his squad in the upcoming window.
"Honestly it's not the worry tonight," he said. "We just came out of two clean sheets and maybe thought we had got the job done at 3-0.
"The target is to go to Swansea with another [good] defensive performance. I also believe the luck we have is that we still have a good chance of qualifying.
"If we had lost tonight, what could have happened, would have been a very bad situation for the qualification. For winning the group, tonight you can say that's nearly impossible now."