Sergio Aguero: I Wanted Real Madrid not Manchester City
Manchester City striker Sergio Agüero claims his £38m move to the Premier League champions was not his first choice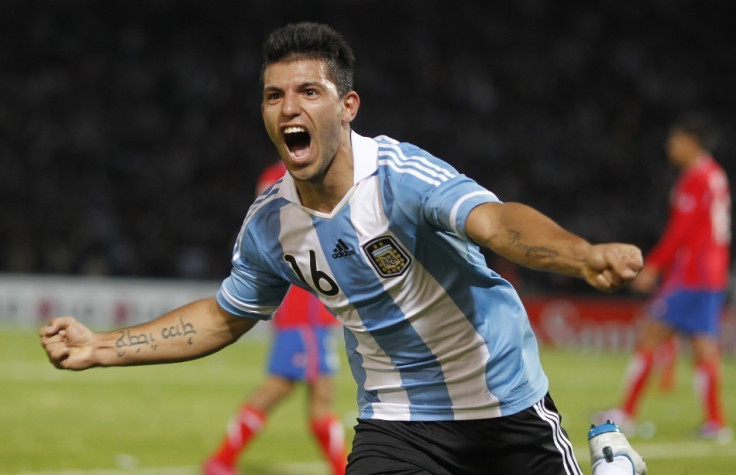 Manchester City striker Sergio Agüero claims his £38m move to the Premier League champions was not his first choice. The Argentine, who has established himself as one of the league's finest strikers, was also courted by Spanish champions Real Madrid, when he was playing for their local rivals Atletico Madrid. He now says that had Jose Mourinho's side made a concrete advance, he would have joined them instead of City.
Incidentally, City have just been beaten 2-3, at the Santiago Bernabeu, by Real Madrid, in the two clubs' opening games of this season's Champions League. Agüero travelled with the City squad to Spain but did not play due to his injury.
"If Madrid had wanted me, I would be playing here. I had no choice but to sign with Manchester City," the 24 year old explained, adding, "I want to take this opportunity to refute the information where I supposedly said that I would never play for Real Madrid because I played at Atletico. It was published in an English newspaper."
He was referring to reports in which he was quoted as saying he had great memories at Atletico and could not "betray" them by joining Madrid.
Agüero was the hero of City's title-winning season last year, scoring the winning goal (the goal that won both the match and the league) in the dying minutes of a 3-2 win over QPR at the Etihad. His comments about wanting to join Madrid, made as they have been in the aftermath of defeat in Spain and against the backdrop of Argentine legend Diego Maradona's comments about joining the capital club, are worrying signs for the English team. More so is the fact that this could build up into another "I am sad" incident, a-la Cristiano Ronaldo in Madrid (who, incidentally, celebrated his winning goal with more than his traditional verve).
However, the striker has moved swiftly to assure the club and fans of his commitment.
"Just to make it clear - I'm very happy to be in @MCFC. It's the best decision I could have taken. I feel comfortable and appreciated in @MCFC - it's a project I feel involved in. We want more titles and we'll get them," he tweeted.
© Copyright IBTimes 2023. All rights reserved.