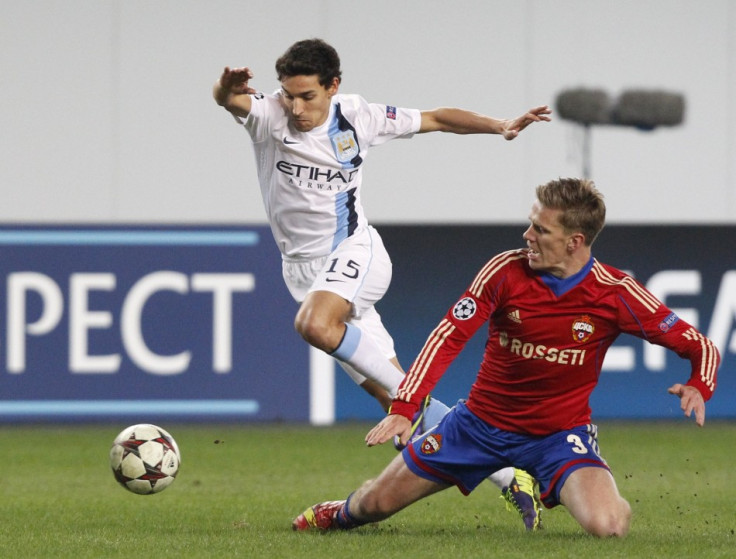 Manchester City star Jesus Navas has said he would like to return to La Liga in the future in order to hang his boots at his boyhood side Sevilla.
The 29-year-old winger moved to the Etihad Stadium in summer 2013 alongside his then Sevilla teammate Alvaro Negredo after Manuel Pellegrini's side paid around £20m to secure his services.
Navas has since enjoyed his experience at the Etihad Stadium, helping them to win both the Premier League and the Capital One Cup in his debut season in England.
The Spaniard has now insisted he is happy at the Premier League giants but admitted that in the future he would more than welcome to return to his former side.
Asked during an interview with Marca whether he will end his career at Sevilla, he responded: "It would be really nice to finish there. It's the club that gave me everything and that would be a nice way to end."
When questioned what he missed from Spain, he said: "Above all the weather."
"But if we're talking about football, nothing. The pace of football here is frenetic and each match is exciting regardless of whether you're on the pitch or in the stands."
Nevertheless, Navas is understood to have a contract at the Etihad Stadium until summer 2017 - and until then, when he will be 31, he still has many challenges to face, starting with the Champions League tie against Barcelona.
"I don't see them as clear favourites, it'll be very even. I think either team could go through; it's going to be a great game to watch," the Spaniard said about the Catalans.
"We have to make good choices and be savvy. The first leg is at our place, so the key is to play a high intensity game at the Etihad and make sure the outcome is a positive result, so we can then head to the Camp Nou with a good chance of going through."
Navas also lavished praise on his teammate David Silva.
When asked about his own season score, he said: "I don't know, that should be for others to say really. But yes, I'm happy with my game, although there's always room for improvement. An 8," Navas said after having provided 6 assists in 15 starting Premier League appearances.
"Silva is very well regarded in England and for me he's one of the best in the world. He's been playing extremely well for years and he contributes so much to us in every game."