New Manchester City boss Pep Guardiola thinks Lionel Messi should remain at Barcelona for the remainder of his career. The Spaniard has been linked with a big-money move for the current World Player of the Year, but Guardiola - who worked with Messi at Barcelona - has no plans to prise him away from the Nou Camp.
Guardiola, 45, was officially introduced to City's fans during a presentation held at the Etihad Campus yesterday (3 July). At the event, the former Barcelona and Bayern Munich manager was asked by a fan about the possibility of signing Messi, and he quickly rubbished the idea.
"He is not a bad player, this guy!" Guardiola joked, according to ESPN. "Definitely not, but I'm sorry - Messi has to stay in Barcelona for the rest of his career."
Guardiola did, however, admit he was excited by the prospect of managing in the Premier League, having previously worked in La Liga and the Bundesliga. "I proved myself in Barcelona and, after I proved myself in Germany, I wanted to prove myself in England," the new City boss said.
"The players are coming to try every game, every weekend, so that the Manchester City people can be proud, and we will see what is our level to achieve our battles.
"I want the people who enjoy football to be proud of what we did. After that, maybe we will win our titles. I cannot do that alone. I need the players, the staff; we need our fans - without that, it is impossible."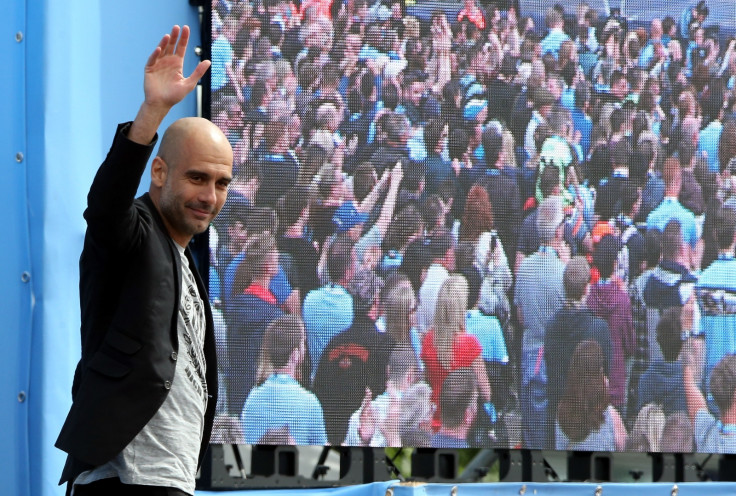 The ex-Barcelona manager also revealed his immediate priority is to get to know his first-team squad during their pre-season preparations. "First I have to meet the players and know them, not from TV, and speak with them, hug them and kick their arse," said Guardiola, who has previously won league titles with Barcelona and Bayern Munich.
"I need time, but as soon as possible we are going to try to create team spirit. That is the most important thing. After that you can create tactics, but we have to create something special with ourselves.
"The reason we are here is thinking: 'What can we do to make this club a better club?' I don't want the guys to think about what the club can do for them. We are here to make Manchester City a better club in the next three, four, five years."