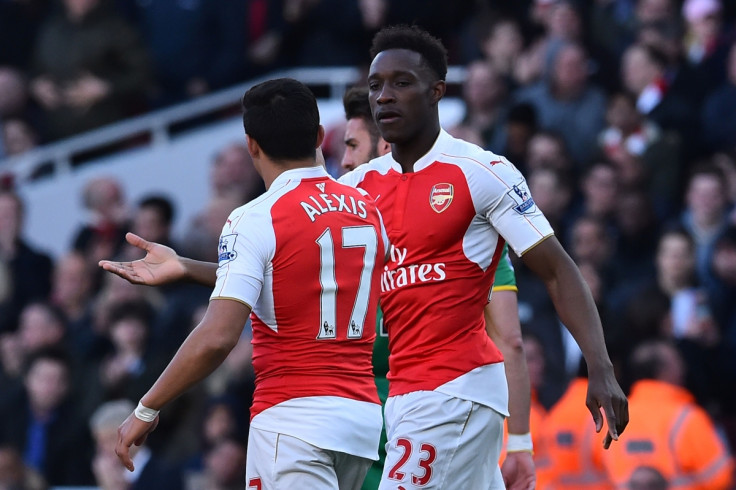 Arsenal striker Danny Welbeck believes that the Gunners have to repeat their performance from last season when they defeated Manchester City 2-0 at the Etihad. The former Manchester United man believes that the Gunners got their tactics spot on and were able to beat City by attacking them at their weaknesses.
Santi Cazorla and Olivier Giroud scored in each half to give the Gunners the advantage in a game where they were able to restrict City from making inroads into their penalty box by holding a packed defence and a disciplined midfield. Welbeck missed the game through injury but is desperate to get back into the mix this time around having scored the winner for the Gunners against Norwich on Saturday, 30 April.
"I remember watching it at home on TV with my family," he told Arsenal's official website. "The performance was outstanding, from the first minute until the last. It was a great team performance, everyone worked hard throughout the game and I think tactically we were spot on with how we approached the match.
"I've got some good memories [at Man City], and a couple of bad ones as well. I think it's important to focus on the next game coming and make sure that it's another good memory."
Welbeck also missed the game between the two sides this season at the Emirates through injury as the north London club won the contest 2-1 with goals by Theo Walcott and Olivier Giroud. Manchester City will come into the game on the back of a 1-0 loss to Real Madrid in the semi-finals of the Champions League but Welbeck does not think that will have any noticeable effect on their performance.
"For them to be going into a Champions League semi-final second leg and having the opportunity to progress to the final is a major situation," he added.
"Them not qualifying will put a bit of a downer on their confidence but City have a great squad, a great team and have great players in and around the whole club. There's a lot of players who can come in on the weekend and provide a very stern test for Arsenal."