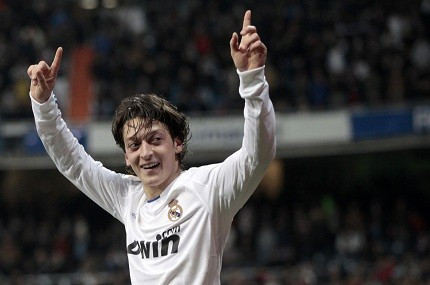 Borussia Dortmund starlet Mario Gotze is better than Mesut Ozil, according to German legend Bernd Schneider, with the youngster currently a big target for Manchester United.
Since moving from the youth ranks into the senior side, Gotze has shown at Dortmund that he is capable of being a future European talent, and at the young age of 19, he is attracting a great deal of attention from clubs around the continent as the German side insist they will hold onto the youngster for as long as possible.
With Real Madrid, Arsenal and Juventus all being linked with Gotze, United are desperate to fill the midfield rolethat was left by Paul Scholes when he retired, and the club have the budget to outbid the Gunners and Italian clubs at least.
Wesley Sneijder was high on Sir Alex Ferguson's transfer priority list for last summer, but the Inter Milan playmaker's wages were said to be a stumbling block in attempts to get a deal across the line. And United have since been looking for a cheaper option, with Gotze the perfect age and potential to bring on board as a long term replacement for Scholes. And his price of £20 million is much more affordable than Sneijder's £35 million price tag.
As a result, former midfielder Schneider, who has 81 caps for the German national side and has made over 250 appearances for Bayer Leverkusen, believes that Mesut Ozil has been surpassed by the youngster because of his raw talent and skill with the ball.
"I personally find Gotze better," Schneider told Bild when asked to compare him to Ozil. "The lad is more versatile. He is also maybe a little better on the ball than Mesut."
Ozil has been a superstar for both Germany and Real Madrid, and was a member of Germany's 2010 World Cup side. Even though they were disappointed to lose to Spain in the semi-final, the club scored twelve goals collectively against three different teams (Australia, England and Argentina) and showed much promise for the Euro tournament in 2012.
Gotze has had a chance to shine for the international side too, and has himself accumulated 10 caps for the international side. He became the joint youngest goal scorer for Germany in the post-war era, when he netted the ball against Brazil in August, at 19 years and 68 days old.
United will be keeping close tabs on the playmaker over the next six weeks, with the transfer window edging close and a need to fill the gap in the midfield era still ever present for the Red Devils.