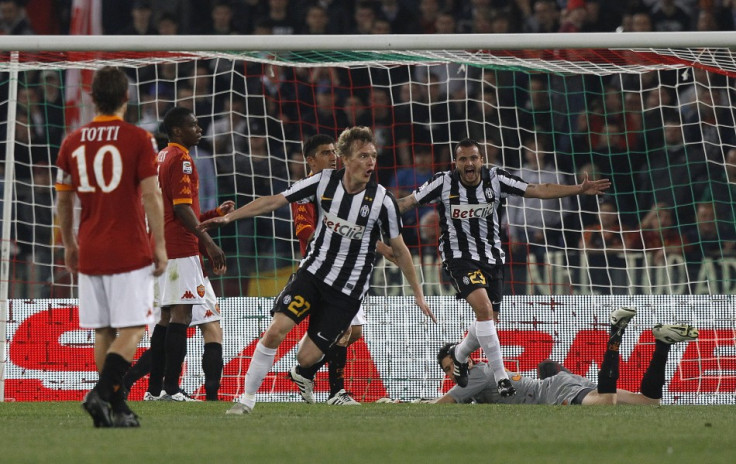 Milos Krasic's agent has claimed that he is considering a move to the Premier League, with Dejan Joksimovic insisting that his client is fielding offers in both England and Germany as he weighs up the option of leaving Juventus.
Krasic has struggled for game time with the Old Lady, and as a result is looking at his options in preparation for the January transfer window.
Manchester United are said to be tracking the Serbia international's situation, along with Chelsea and Borussia Dortmund, and Joksimovic has revealed that Krasic has turned down offers from numerous clubs as he takes his time deciding on his next step.
"My client has already turned down two offers and I don't think he would accept Borussia [Dortmund], mainly because of his wage. I don't think they can afford him," he said.
'His future depends on what happens at Juventus in the next months. If he starts playing regularly then he could stay in Italy otherwise he will have to go.
"He would certainly move to a top division like the Bundesliga or the Premier League."
United are on the lookout for a midfielder who can replace the retired Paul Scholes - and while over the summer the English giants were strongly linked with Wesley Sneijder, no such deal came about before deadline day closed.
And even though Sir Alex Ferguson insisted that a midfielder was not high on United's agenda, with the squad changing their style of play to cope without Scholes' presence, the Red Devils will be considering bolstering their options in January to compete with current title leaders Manchester City.
Krasic began his career in Serbia playing for FK Vojvodina, before being scouted by Russian side CSKA Moscow. After scoring 26 goals in 150 appearances for the club, he made the move to Juventus in 2010 for a reported fee of €15 million.
But the 27-year-old has failed to impress so far with the Italian outfit, and as Juventus continue to fly high in the Serie A - the side are currently fourth in the table - Krasic doesn't look likely to get as much of an opportunity to prove his worth at the club.
United would certainly have the budget to cover Krasic's wages, with the same issue reportedly cited as a stumbling block in a deal with Sneijder over the summer. Sneijder's pay at Inter Milan exceeds £200,000 per week, and with extra tax breaks available to the playmaker in Italy, United were unable to compete with his ongoing costs.
But with Krasic's transfer fee of £25 million, and lower wages than Sneijder, Ferguson reportedly sees the star as an option that will get the club more value for money. And Krasic can play as either an attacking midfielder or winger, making him a versatile prospect.