Manchester United £35m Midfield Target Denies Inter Milan Slur
Wesley Sneijder says he never said a bad word about Inter Milan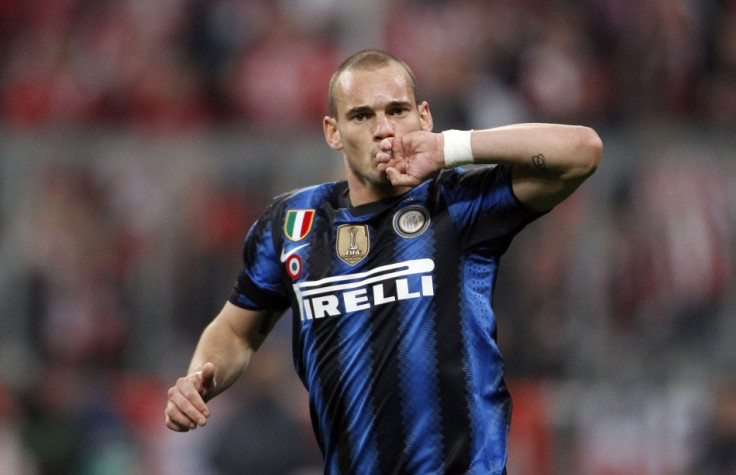 Wesley Sneijder has denied that he made negative comments about Inter Milan, as the playmaker continues to be the subject of transfer speculation.
Sneijder reportedly claimed a couple of days ago that the Inter side have been struggling because the average age of the squad is getting too high, but the Dutchman insisted there were problems in the translation of the interview.
"I gave an interview in the Netherlands which was translated quite poorly," Sneijder said.
"I said that we have a very strong team with a lot of quality players. Our problem at the moment is that the same players are playing a match every three days.
"We had a squad with a lot of old players two years ago as well and we managed to win everything back then. Age is not the problem in my opinion."
Manchester United were strongly linked with Sneijder over the summer, but a number of issues were said to have scuppered a deal for the 27 year old.
Sneijder's £200,000 a week wage was a problem for Sir Alex Ferguson, and if the star had made the move to Old Trafford, he would have been by far the highest paid player at the club. Extra tax breaks in Italy also would have inflated the figure somewhat, and a £35 million fee on top of that would seem difficult for even a club on the scale of United to meet.
Sneijder's wife was also reportedly hoping to stay settled in Italy, with Yolanthe Sneijder Cabau van Kasbergen currently working as a TV presenter in the country. But Inter were said to be willing to sell their prized possession for the right price, and both club and player have insisted that it was United who turned down the possibility of a deal.
As a result, Sneijder's comments in the media have been scrutinised even more so than usual, and while gossip continues to link him with United, any comments he makes about Inter can be construed as an comment on the failed move.
But the playmaker is insistent that he is happy at Inter, and is not bothered by the transfer news surrounding a move to Old Trafford.
© Copyright IBTimes 2023. All rights reserved.