Former Manchester United defender Gary Neville has praised Paul Pogba's performance in the 4-1 win over Leicester City as his best yet since returning to England.
The 23-year-old France midfielder scored his first goal for United from a Daley Blind corner late in the first half at Old Trafford and was named man-of-the-match after a fine display.
Pogba came in for criticism for his performance in the Premier League defeat against Manchester City on 10 September, with former Liverpool defender Jamie Carragher calling it one of the most "ill-disciplined performances" he had ever seen.
Neville believes the £89m ($115m) summer signing from Juventus may have had a "wake-up call" over the past week.
"Pogba was instrumental in that first half. We look at the scrutiny on Wayne Rooney, but a lot of people are saying that for £90m on a central midfield player, you have to influence the game. Today he did," Neville told Sky Sports.
"The first half he was the best player on the pitch. In the first half, he seemed more determined, like [Jose] Mourinho had told him to sprint back and win the ball.
"I think he's had a bit of a wake-up call in the week."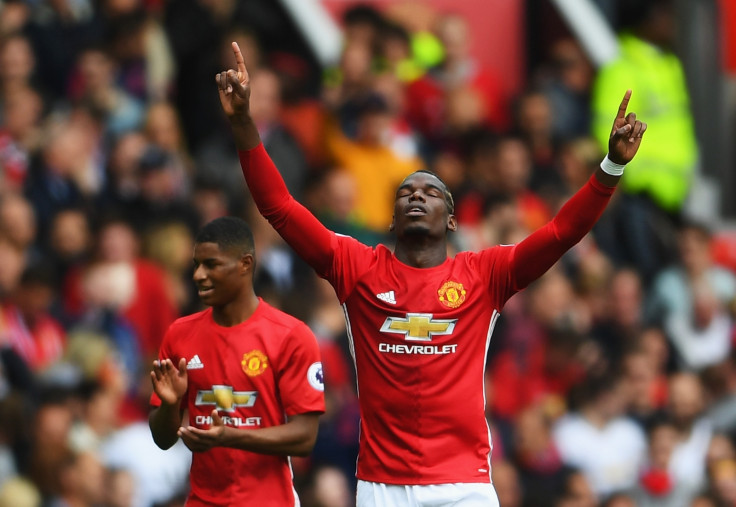 He added: "It was an all-round performance. It is the best I've seen him.
"If you think about what you want your midfield player to do for £90m, you want him to pass well, come forward, be a threat in the box, be dynamic, sprint back and be a force defensively.
"All the facets of what would be an all-round midfield player, he's one of those rare midfield players who can do most things, and today we saw a big influence on the game."
The win over Leicester was the first time United had gone into half-time with a four-goal lead since a win against Fulham in August 2006.
The Red Devils next face Ukrainian side Zorya Luhansk in the Europa League at Old Trafford on 29 September.