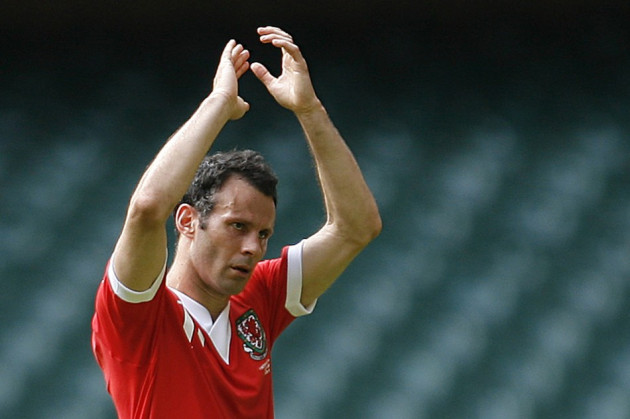 Manchester United midfield Ryan Giggs is the natural candidate to follow Gary Speed as Wales boss, according to former international Malcolm Allen.
Giggs, 38, was heavily linked with the role when John Toshack stepped down in September 2010.
However, the vacancy came too early for the Manchester United winger, who chose to extend his career at Old Trafford.
At the time, Giggs indicated he would be interested eventually in leading his country when he retired from Manchester United.
"If you go into management, the big job is to be in charge of your country. And I'm no different in terms of thinking like that," he said in June 2010.
The Football Association of Wales has confirmed it will make a decision over Speed's successor in the New Year. And former Wales striker Allen believes the Manchester United stalwart should be their first choice.
"There's only one man in my opinion that comes at the top of that tree and take us forward and that's [Manchester United's] Ryan Giggs," Allen said.
"I do hope he takes this offer up this time. He's coming to an age now, he's 38 [and] he's coming to the end of his career.
"He's won everything in the game. Now let him take forward [the] good work Gary Speed started. He's made his opinions very clear that he wants to become a manager at one stage.
"There's no better place to start I don't think at this present time [than] with the Welsh team that we've got."
Giggs made his Wales debut in 1991 and went on to win 64 caps and captain the side, he retired in 2007.
"He'll gain the utmost respect from the players straightaway," Allen added.
"He's a very quietly spoken man, a little bit similar to Gary. There's a lot of similarities but it would be unfair to compare because of hoe well Gary has been doing.
"But Ryan's the man to take us forward, that's my belief. Gary was second to none and left no stone unturned and Ryan Giggs, being at Manchester United, he's learnt from the best."
Wales assistant manager Raymond Verheijen has been criticised for suggesting he should be allowed to manage the national team, following Speed's death.
The 40-year-old, who has helped coach Holland, Russia and South Korea, posted on Twitter: "Tomorrow the FA of Wales meet about the future of Wales.
"Hopefully the board will respect Gary's wish, so Osian Roberts [joint assistant manager] and myself can lead the team to Brazil.
"There is no need for a new manager with new ideas. Our success was based on Gary's clear structure. Everybody knows what to do for our mission Brazil 2014."
The FAW aims to have a new manager in place before a scheduled international friendly on 29 February 2012 but Allen has cautioned the ruling body to take their time choosing Speed's successor.
"I've got to say well done with the Football Association of Wales with the way they've dealt with this.
"They've done it so professionally," Allen added. "It's been a sad, sad, time for all of us.
"Out of the momentum we were gaining, one big part of the jigsaw is now gone now so we have to replace that. I do believe [in] early January they've got to make a decision on who they are going to bring in.
"We've got to move on and take forward what Gary started. I'm sure it will hit the squad hard because of what he [Speed] built. That's why I believe it's so important to get the right profile of manager in."