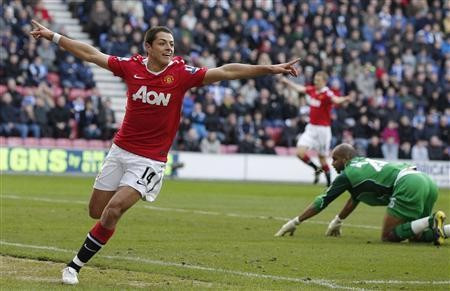 Javier Hernandez has revealed that he nearly left his footballing career for good, with the Manchester United striker admitting that if it wasn't for the support from his family and loved ones, he may not be where he is today.
Hernandez has been a star for United since the Mexico international agreed to move to the club before the 2010 World Cup.
The transfer was conducted in the upmost secrecy when Sir Alex Ferguson set his sights on the young star, with Hernandez's parents even unaware that he had travelled to sign with the English giants. And after Hernandez's performances for Mexico in South Africa, the 23-year-old seemed destined for stardom at United – after just one season, he had already scored 20 goals across all competitions, and became a regular starter alongside Wayne Rooney.
And the revelations that he nearly left football all together would come as a shock to most United and football fans, with Hernandez admitting that he felt he wasn't getting the break he deserved at Mexican side Guadalajara.
"Very close," Hernandez replied to the official Manchester United magazine when asked how close he was to quitting. "It was about three years ago and I had a lot of questions about whether or not this was the path God wanted me to follow. I wasn't playing much football, I was being kept in the Reserves.
"I was disappointed younger players were coming through and getting ahead of me, and it really got me down, even away from football. I talked a lot with my parents, my grandparents, my sister and my girlfriend about my situation, and they helped me realise that this is what I was meant to do.
"I know now that I'm a very lucky guy and I'm glad I made the decision to keep playing. That experience taught me a lot."
Hernandez said that he learnt some big life lessons from the situation, of which have clearly been implemented as he goes from strength to strength with United.
"Sometimes, if you want something, but you don't have it, then you can get mad with everyone around you and mad with yourself," he explained. "I learnt it's important to enjoy your life and enjoy your football. Ultimately, only God knows what path you will take and whether or not you will fulfil your dreams."
Hernandez has attracted a great deal of attention from numerous clubs as he continues to find the net – Real Madrid were believed to be particularly interested in the man nicknamed 'Chicharito'. But whenever Hernandez talks about Old Trafford, it's obvious where he wants to stay for his footballing career.
"I am definitely aware the interest has increased since I have been at Old Trafford [laughs]," he said. "I'm so thankful to my Mexican fans, though – I have only nice things to say about them and I'm very grateful for their support. But even before I signed, Manchester United was huge, definitely one of the biggest clubs.
"And it's not only in South America. In the USA in pre-season, you could see how many people came to watch the team and look for autographs outside the hotel. I read something recently that said the club had something like 330 million fans in the world. That's amazing.
"I've also seen some footage from when United went to Asia in 2009. The love that people have for this club is spread all over the world and it's an honour to play here. If you say the words 'Manchester United' in any part of the world, people know who you're talking about."