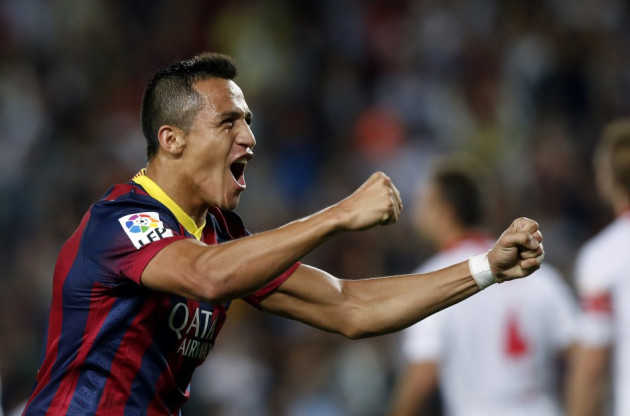 Alexis Sanchez has opted to follow the same approach as Cesc Fabregas after being linked with a move to Manchester United by revealing his desire to stay at Barcelona.
The 24-year-old has enjoyed an impressive start to the season, revelling in Lionel Messi's recent injury absence with a brace against Valladolid at the beginning of the month to bring his tally for the season up to four. This form has also seamlessly carried onto the international front with Chile after scoring three in their final two World Cup qualifiers.
With Messi returning to the first team fold last weekend and the presence of Nemyar, Cristian Tello and Pedro providing Gerardo Marino with a wealth of attacking options, Spanish reports have suggested the former Udinese man could soon fall back down the pecking order.
Whether that will be the case or not, Sanchez has distanced himself from reports suggesting a Premier League switch is imminent, expressing his desire to remain at the Nou Camp for a lengthy period.
"I always felt at home in Barcelona, with the desire to play 100 per cent every game I fight," Sanchez was quoted as saying by Le Sport 10.
"Fortunately, I was able to score goals from the beginning of the season. I do not stop there, we must continue to move forward.
It is very important for a striker to score, especially when you trust your coach and your team-mates."
Catalan-based newspaper Sport had previously suggested David Moyes had made the Chile international a priority target in the January transfer window. The Premier League champions were keen to bring the winger-cum-forward to Old Trafford in 2011 when he decided to leave Udinese until Barcelona beat them to his signature.
But Sanchez's recent comments suggest he will ignore any offers from England should they be forthcoming, as Fabregas did in the summer when he was relentlessly chased by United.