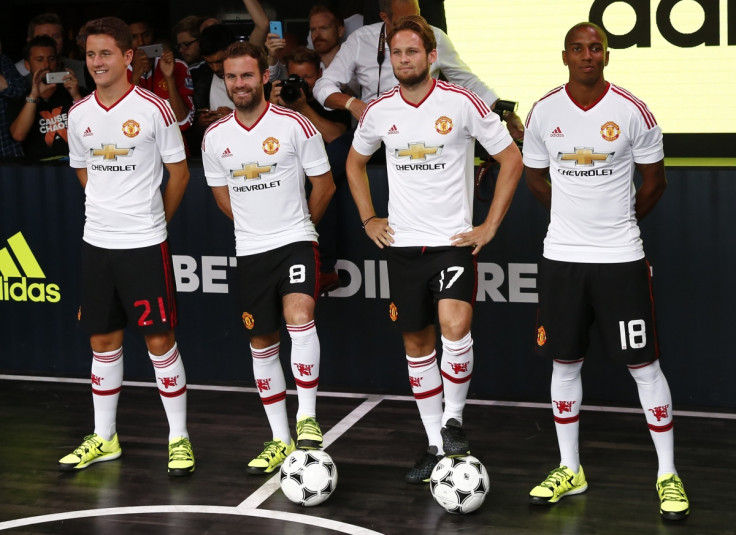 Manchester United have released their results for the 2016 fiscal first quarter, revealing a sharp revenue increase of 39.3% to £123.6m ($187.8m) for the three-month period ending 30 September. The club's return to Champions League competition under Louis van Gaal following a one-year absence played a big part in such a boost, as did the decision to sign a lucrative 10-year kit sponsorship deal with Adidas worth a cool £750m.
"Our record first quarter revenues and Ebitda demonstrate the continued strength of our businesses," executive vice-chairman Ed Woodward said. "We are delighted with the early progress made in licensing. During the quarter we entered into an agreement with HCL to be our Digital Transformation partner, which will enable us to connect with our fans around the world in innovative ways and further strengthen and grow our commercial revenues."
United's latest statement claims they expect revenue to rise further to between approximately £500m-£510m during the current financial year, with net debt having grown 5.3% to £286.2m. Profit, meanwhile, dropped from £8.9m to £5m at a decrease of 43.8%.
Van Gaal's side have won seven, drawn three and lost two of their 12 Premier League fixtures so far this season, leaving them fourth in the table behind in-form Leicester City and three points adrift of leaders Manchester City. While such a finish was good enough to secure a Champions League berth last term, Woodward expressed concern that continually underwhelming performances from English teams in Europe's elite club competition could lead to the danger of losing a place for the 2017/18 season.
"In simple terms, if all of our teams perform badly compared to Italian and German teams there is a risk," he added, as reported by The Guardian. "Those two countries are the key. If we did as badly as last year and Germany and Italy did as well then that fourth position would come under threat."
Serie A lost its fourth Champions League spot to the Bundesliga back in 2011 after a fall in its coefficient ranking, although they provide the biggest threat to the Premier League moving forward after Juventus reached the final in Berlin back in May.
For a full breakdown of Manchester United's latest financial results, click here.