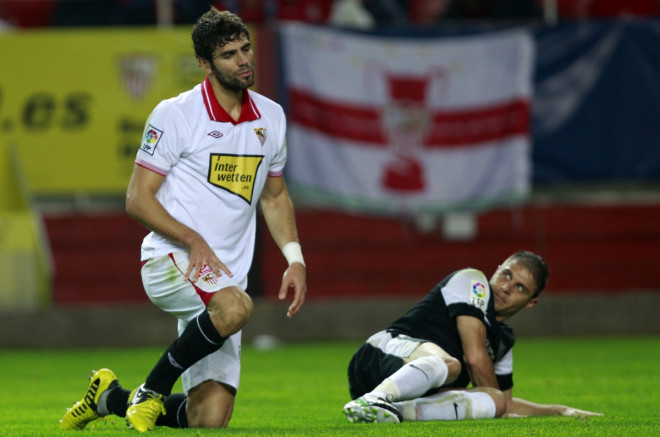 Manchester United, Arsenal and Liverpool have been handed a massive boost in signing Federico Fazio after the defender's agent admitted the player could leave Sevilla in the summer transfer window.
The 27-year-old has been linked with a move to top clubs across Europe as United and Arsenal are reportedly interested in signing him. talkSPORT also claims the Merseyside club are also in the frame for the centre-back's signature.
Ariel Kiperszmid, Fazio's agent confirmed the defender is wanted in England, Italy and Germany. In addition to this, the Argentine centre-back's representative stressed the player could leave the Europa League winners if the interested clubs could meet his buyout clause.
"Fazio is wanted in Italy, England, Germany and beyond. Now he thinks about Sevilla as he is fresh from winning the Europa League and is enjoying the moment," talkSPORT quoted Kiperszmid as saying.
"He has a contract until June 2018 and a buyout clause, and it is not inconceivable that Sevilla will increase it.
"Napoli? They are not the only club on his trail, he is an established player at European level and coveted by many teams," Fazio's agent concluded.
Fazio started during Sevilla's Europa League final against Benfica in Turin as the game ended in a goalless draw, forcing the course of the match to be decided by penalty shootout. He has started in 27 league games for the Spanish club, scoring two goals in the process.
Meanwhile, United midfielder Darren Fletcher has set his sights on the upcoming pre-season tour and says he is eagerly waiting for this year's matches before the start of the season.
The Scotland international last made it to the pre-season tour in 2010 and he will be included in the side for the first time after three years.
"It's the most I've ever looked forward to a pre-season I can't wait because I've not had one for three years," Fletcher told United's official website.
"Keeping fit and having a good pre-season definitely sets you up for the rest of the season. I'm really looking forward to it," he added.