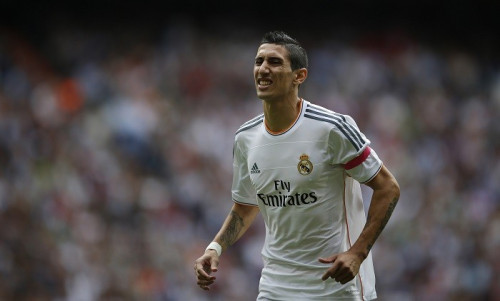 Real Madrid have insisted that they are not willing to sell Angel Di Maria during the transfer window but the situation may have changed after the winger confronted his own fans during Real Madrid's latest game against Celta.
Di Maria was taken off by Carlo Ancelotti in the second half of the game before he seemingly made an obscene gesture - grabbing his crotch - in the direction of the Real Madrid supporters after being booed by them.
The winger denied having problems with the fans but has shown his frustration over how the Spanish press are constantly scrutinising him.
"It wasn't for anyone. I adjusted myself and kept running," Di Maria told Fox Sports.
"I've never had problems with the fans. I could feel that half were applauding and half booing.
"I went out totally naturally. They always expect me to do something. I always have to clarify what I do. With everyone else nothing happens and with me it's always a complete mess.
"I fight every day for a place at Real Madrid and it makes me angry that things are always being invented about me. But I am calm because I know it was nothing."
Manager Carlo Ancelotti criticised his gesture after the game and Spanish Radio Station Cadena Cope report that Real Madrid could sanction the player over his attitude.
"If Di Maria has answered the supporters he have made two mistakes. But life keep going", Ancelotti said.
Several Spanish reporters claim that his reaction could be the end of Di Maria at Real Madrid as the club could be forced to sell him in January despite being an important player to the squad.
Di Maria has been recently linked with Monaco, Arsenal and Manchester United and his release clause is around around £41m.
The Argentinian winger is not happy at all in Madrid because although he started the season as a first team regular he has seen his number of opportunities decrease in favour of Gareth Bale as the campaign has progressed.