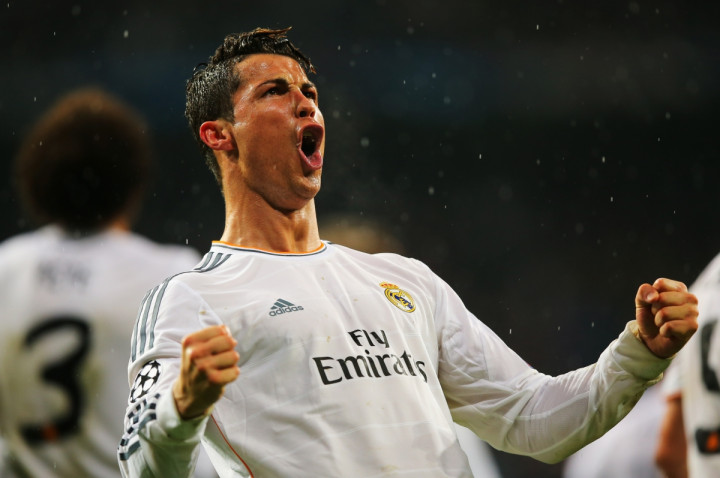 Manchester United manager Louis van Gaal is open to the possibility of a grand return to Old Trafford for Cristiano Ronaldo.
The world player of the year continues to be linked with a return to the Premier League amid suggestions he has grown disenchanted with life at Real Madrid.
The 29-year-old was said to have been very disappointed with the club's decision to sell Angel Di Maria to his former club in the summer and suggestions in both the English and Spanish press are that United would be prepared to sanction a deal to bring the player back to Manchester after he left £80m five years ago.
When quizzed on the latest Ronaldo rumours, Van Gaal told a press conference: "It's always a discussion in the papers. I don't think the media will buy Ronaldo.
But when asked if he would, Van Gaal cryptically replied: "It is possible, what I said with [Radamel] Falcao, players like Ronaldo give a lot extra to our selection or to a team, but I don't think Real Madrid shall sell him."
The United boss also had better news regarding his current options within the squad after being left without nine players for last week's victory over Queens Park Rangers.
"I am very happy you asked me that question, I have only six injuries now so it's good. Who's back? [Chris] Smalling is back," he said.
With players returning, the Dutchman was also given further reason to mull over his selection for the visit to Leicester City on Sunday 21 September after Adnan Januzaj scored a splendid hat-trick against Sunderland for the club's Under-21 side on 15 September.
With Di Maria, Juan Mata, Ander Herrera and Radamel Falcao all impressing in last week's 4-0 victory over QPR, the United boss has a number of options at his disposal but inists no one is certain of a space in the starting 11 - except perhaps captain Wayne Rooney.
"I don't think any player is fixed. Only the captain has more privileges but no other player has privileges I think. Every player knows that because when you see how I manage my teams," Van Gaal said.
"I don't think that Falcao interferes with [Robin] Van Persie or Van Persie interferes with Falcao.
"Falcao is a very good striker but I said in the first press conference I like Van Persie also. He's also a very good striker and we also have Rooney, Januzaj and Wilson. We have five players for the two strikers positions and I have to choose."