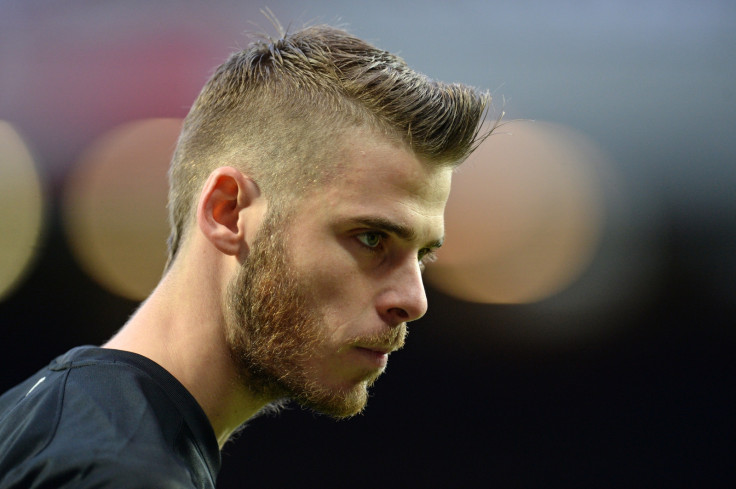 Manchester United goalkeeper David de Gea's contract discussions have been thrown into fresh doubt after manager Louis van Gaal refused to comment on talks regarding the Spaniard's new deal.
De Gea has been United's outstanding performer of the season, with match-winning performances against Arsenal and Liverpool inspiring the club's recent run of six successive Premier League victories.
The 24 year old has just 18 months remaining on his contract with reports suggesting the club are ready to ward off interest from Real Madrid by securing an extension to De Gea's deal before Christmas.
United's player of the 2013/14 season was expected to be rewarded for his recent performances with a long-term deal worth £120,000 a week but negotiations have been plunged into doubt after Van Gaal declined to comment on the talks.
"That is between the club and the player and it is not open for discussion for the media," Van Gaal said when asked about De Gea's future, following the 3-0 win over Liverpool that saw the ex-Atletico Madrid shot-stopper produce a man-of-the-match performance.
De Gea is among several players expected to begin discussions over a new contract, with the likes of Phil Jones, Chris Smalling, Rafael, Michael Carrick, Ashley Young and Robin van Persie's deals due to expire before the end of the 2015/16 season.
The Spain international has twice been named United's player of the month this season and he appears vital to the club's attempts to return to the Champions League in Van Gaal's first season in charge.
And United captain Wayne Rooney has stressed the importance of retaining De Gea on a long-term deal after labelling him the best goalkeeper in the world.
"In my eyes he is the best keeper in the world," Rooney told United's official website. "The performances he has shown for us have been fantastic. He is not as tall as some other keepers but his reach is really long.
"He came through a tough patch early on in his career here and he is starting to prove what a top keeper he is now. To play in goal at Manchester United at 20 years old is difficult and especially when trying to replace Edwin van der Sar, who was a fantastic keeper.
"We knew it might take time with David and it did. For the first six months to a year, it was hard but he worked hard on his game and it shows.
"Edwin van der Sar had the best years of his career when he was with us in his late thirties, so David has got a great future ahead of him. If he keeps working hard the way he is then he will have many years at the top."