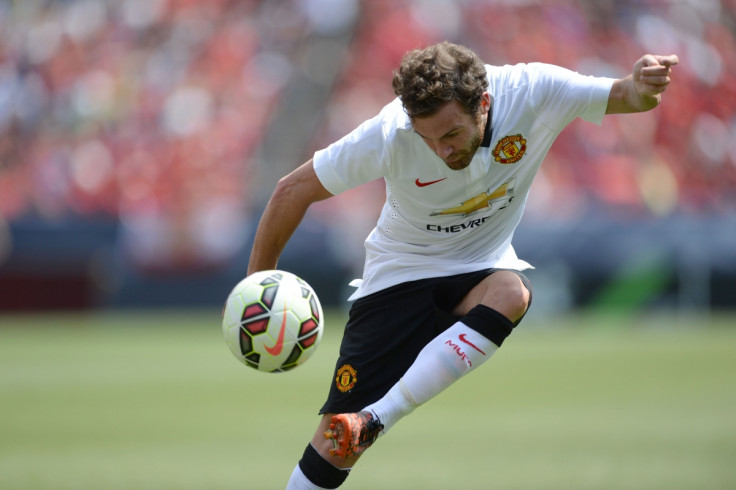 Manchester United playmaker Juan Mata has admitted he was offside when scored the second goal of the game during the 3-0 victory over Liverpool on Sunday, 14 December.
Louis van Gaal's side secured their sixth consecutive victory against the Merseysiders to keep their third position on the table, five points away Manchester City and eight off leaders Chelsea.
Wayne Rooney scored the opener before Mata netted the second goal of the game into the 39th minute, heading the ball after Robin van Persie got a slight touch to Ashley Young's cross. Van Persie closed the game in the second half.
The Spaniard claims he didn't realise the situation on the pitch but after watching the goal on TV he admitted he was clearly offside.
"Personally, I was fortunate to score again. To be honest, I watched the footage and it's true that I'm offside after Robin's header. That is something you don't realise when you are on the pitch," Mata wrote in his blog.
"Anyway, we scored two more goals and that reinforces our victory."
Having also scored the winners against Crystal Palace and Stoke during United's impressive run, the Spaniard couldn't hide his joy to score against United's big rivals.
"I still keep a smile on my face. This Sunday in Old Trafford has been a day to remember. For Manchester United, the games against Liverpool are always special," he said.
"That circumstance, added to our good run of results in the last few games, were enough to create a spectacular atmosphere inside the stadium."
"Believe me, when you are playing football in a place like Old Trafford and the crowd starts roaring you do feel it. The support of the United fans during my time here has been amazing, something really gratifying, but this Sunday was special."
Meanwhile, Mata has lavished praise his compatriot David de Gea, who was named once again Man of the Match after an impressive performance to keep another clean sheet.
"And we won, among other things, thanks to the 'Man of the Match' David de Gea, who has had yet another great performance," he said.
"He is in top form. Everybody's praising him and now we have to keep working so we don't need so many saves from him in the next few games; we have to get better in that regard. David gives us complete confidence. Liverpool created chances and they didn't score because of him."