Peter Schmeichel has reiterated that Manchester United will never be about just one player as uncertainty continues to reign at Old Trafford regarding the future of goalkeeper David de Gea.
The Spaniard has been in inspired form under manager Louis van Gaal this term, continuing his rapid development with several top-class performances that have helped the club return to the top four following a one-year Champions League absence.
De Gea won both the players' player and fans' player of the year awards at Manchester United's annual awards dinner earlier in May, yet it remains doubtful if he will be content to remain in England for the long term with his current contract due to end in the summer of 2017 and the player appearing reluctant to commit to an extension.
Real Madrid have long since been linked with a possible swoop for the 24-year-old as they seek to find a long-term replacement for Iker Casillas with the latter having seen his form decline sharply over recent seasons.
While many Manchester United supporters appear increasingly concerned over the potential sale of unquestionably their most important asset, Schmeichel believes the club are capable of moving on successfully in his absence.
"Clearly there's an issue where either himself or his girlfriend wants to go back to Madrid and you can't argue that Real Madrid isn't as big a place as Manchester United – some would say bigger," the five-time Premier League winner told Perform as reported by the London Evening Standard.
"If he wants to go, he's done fantastically well for Manchester United. We should be thanking him and we, of course, will move on. I think the most important thing for Manchester United is that we have a positive transfer window and we get players in that can take the club forward. It will never be about one player, it's not just about David de Gea."
First of new faces for Van Gaal
Van Gaal has already added one new face to his squad for next season, with Dutch international forward Memphis Depay reported to have successfully completed a medical ahead of a high-profile move from Eredivisie champions PSV Eindhoven.
In the event that De Gea was to leave, Schmeichel is hopeful Manchester United can continue to attract new players as they bid to return to trophy contention following a brief period of instability.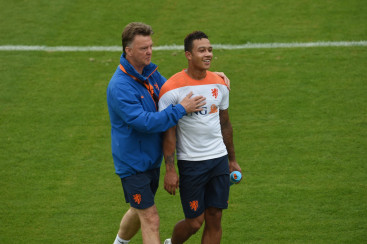 He said: "If he wants to continue playing, we'll be very happy with that. If not, we move on and the manager will take decisions on who takes over but we need more than one player – everybody knows that.
"Hopefully we have positive messages coming in terms of players coming to Manchester United and we build an atmosphere and spirit where we can move on and challenge for trophies again."
Away from the increasingly manic world of football transfer business, Schmeichel was on the golf course on 20 May as one of a number of sporting greats past and present who took part in the 2015 Celebrity Pro-Am event at Wentworth, a star-studded affair that acts as the traditional curtain-raiser for the BMW PGA Championship.
The towering Dane featured alongside ex-Manchester United teammate Teddy Sheringham and BBC Sport presenter Dan Walker on a team anchored by former Open winner Paul Lawrie.
The one-day tournament was won by Martin Kaymer's team, which included Harlequins back-row forward Nick Easter, former Scotland scrum-half Rory Lawson and jockey Richard Hughes.
Paul Scholes, Kevin Pietersen, Phil Neville, Brian Lara, Alan Shearer, Andrei Shevchenko, Tim Henman, Sir Ian Botham and the newly retired AP McCoy were among the extensive list of other sporting luminaries to take part.