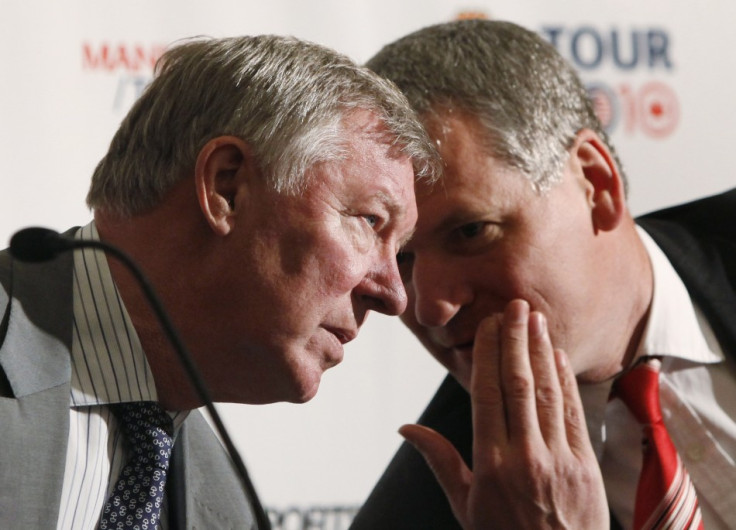 Manchester United chief executive David Gill has given an intriguing insight into Sir Alex Ferguson's all-encompassing authority at Old Trafford, by admitting he is not exempt from the Scot's infamous 'hairdryer' treatment.
Gill was appointed the club's chief executive following Peter Kenyon's controversial move to Chelsea in 2003 and has since enjoyed an excellent relationship with Ferguson. The FA board member was instrumental in engineering the club's recent unveiling of the Sir Alex Ferguson Stand, and the pair's bond is one of the strongest Ferguson has enjoyed during his remarkable Manchester United tenure.
Despite juggling the dual demands of the Glazer family and Ferguson, since the former's takeover of the club in 2005, the 54-year-old concedes there has been the odd occasion during their eight year partnership that he and the United manager have disagreed.
"I wouldn't say I'm exempt from the hairdryer but I would say I can give as good as I get," Gill told The Daily Mail.
"The important thing I notice from Alex is that there has been probably half a dozen of these hairdryer-type moments, give or take, over the last eight years as chief executive [but] he never sulks.
"He never carries it on and we move on. That's a great thing about Alex - he can have an opinion and blow his top but it's forgotten like that, and I think that's the true measure of the man."
Ferguson celebrated his 25th anniversary last Sunday and although British football's most decorated manager has shown a strong willingness to continue, Gill concedes the club faces a daunting job in finding a replacement. He believes whoever is deemed worthy of following in the unenviable footsteps of Ferguson will have to reflect Manchester United's traditions and values, but remains hopeful the transition will be made easier by a young squad saturated with talent.
Gill said: "Certainly it'll be difficult to replace him. It's naive to say anything other than that, but we are a great club whose values go back in history to the 1950s and 1960s and the last 25 years with Alex.
"To continue with that, the new manager needs to understand those values and the vision for the club and must buy into that.
"The important point is the new manager, whenever that may be and whoever that may be, will be taking over a great club and Alex in particular will want to make sure he inherits a great squad. That's our goal - to make sure when the new manager comes in he has a great squad in terms of age and profile."