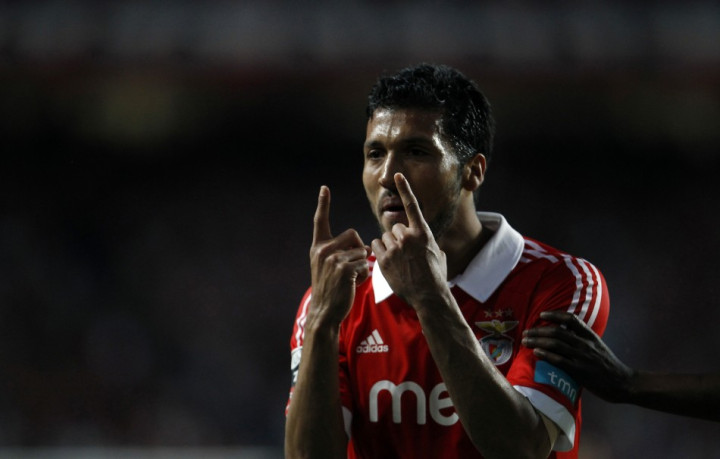 Benfica defender Ezequiel Garay has revealed that he had his heart set on joining Manchester United in the summer, but David Moyes' appointment blocked his move to Old Trafford.
Moyes replaced Sir Alex Ferguson after United's legendary manager stepped down from his post at the end of last season. The former Everton boss saw the English champions have a poor transfer window, having added Marouane Fellaini as the only high-profile signing of the summer.
The 27-year-old centre-back was linked to join the Premier League champions and a €20m fee had been agreed between United and the Portuguese club for the transfer of defender. However, Garay confirmed the Old Trafford club's offer was rejected by Benfica.
"I believed I was going to join Manchester United in the summer. The deal was nearly closed but finally Benfica did not accept the offer," Garay said, as quoted in the Mirror.
"I believe the exit of Ferguson has influenced the deal. Moyes did not believe in me as much but that's not a problem," he added.
The former Real Madrid centre-back is once again on United's radar as Moyes may make a move for him in January. Garay insists that he is happy with his current employers, but has left the door open for a possible transfer in the future.
"I am happy at Benfica and have a lot of dreams and ambitions for this season. Now I only think about the present which is Benfica but it's never possible to discard anything in the future," the defender said.
Meanwhile, Robin van Persie has admitted to have played the tie against Sunderland with after United striker hurt his toe during the Champions League clash against Shakhtar Donetsk.
"Against Shakhtar I got such a hard kick on my toe, I immediately thought it was broken. It was so sore. On the Thursday, after returning to Manchester, I had a scan. Eight years ago I broke a bone on my other foot and it felt like a similar injury," Van Persie explained.
"I was so relieved there was no fracture visible, but doctors told me it was badly bruised. I was told to rest it, but I wanted to play against Sunderland. So we did what they call a quick fix. The medics gave me an injection."